Your church volunteers are the unsung heroes of your church. They are living, breathing examples of your church's mission, vision, and values who serve fellow members, visitors, and community members on a regular basis. Showing gratitude is an important part of any volunteer engagement strategy, but it doesn't have to be costly—it can happen on any budget! Small yet meaningful actions can help you express your sincere gratitude and keep volunteers engaged with your program. Here are a few creative ideas to get you going:
Don't underestimate the power of words.
It's important to verbalize volunteer value regularly. 'Thank you' are two words we don't say enough sometimes. These two powerful words go a long way and can encourage your volunteers and increase loyalty.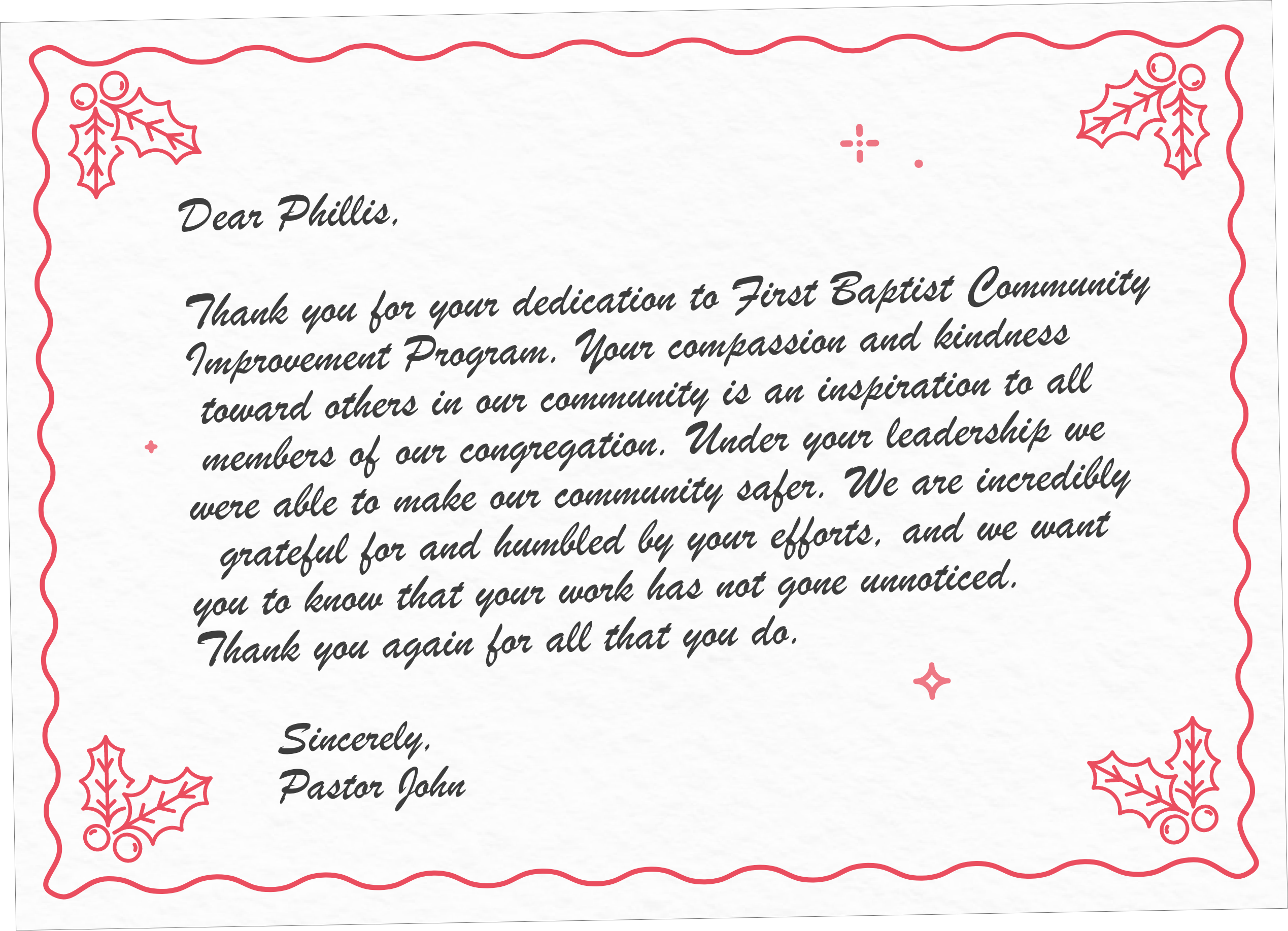 Give a handwritten letter or card.
Need some inspiration? Here's an example:
Dear [Volunteer's Name],

Thank you for your dedication to [Name of Volunteer Program or Church]. Your compassion and kindness toward others in our community is an inspiration to all members of our congregation. [Acknowledge the specific role your volunteer played or a particular strength of the volunteer]. We are incredibly grateful for and humbled by your efforts, and we want you to know that your work has not gone unnoticed. Thank you again for all that you do.

Sincerely,
[Your Name]
Utilize your church's mobile app to connect.
Handwritten cards and letters are thoughtful and provide a nice touch but you can also use your church's mobile app + texting to show appreciation in a quick, efficient way. Sending an encouraging and appreciative text before or after a member has served can make a huge difference in how they feel going into (or leaving) a volunteer event.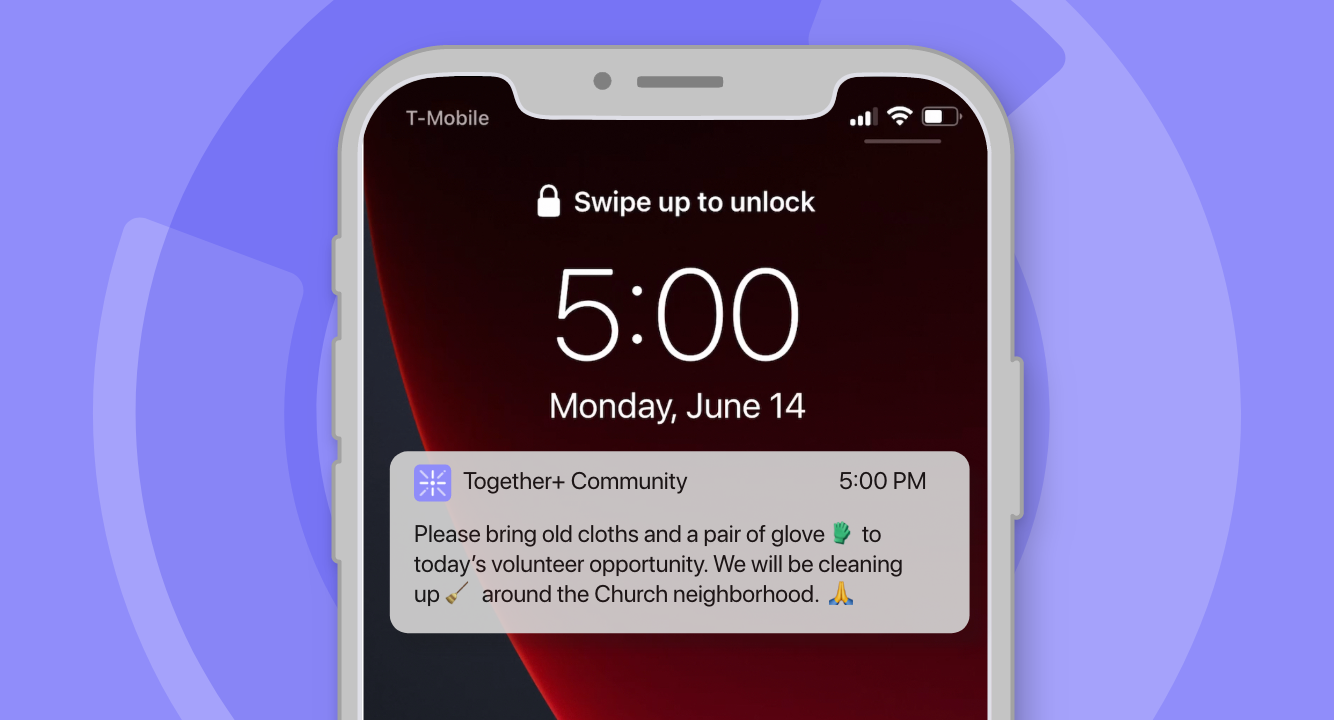 Throw a celebration dinner.
Hold a special evening just for your church's volunteers that serves as a culmination of their accomplishments throughout the year. You could make it as simple and fun as a pizza party, a potluck, or something more formal. Think about other church volunteer appreciation dinner ideas that you can use, like picking a theme for your gathering, or reserving a special location for the event.
Give your volunteer a shout out on stage on Sunday.
Surprise them on Sunday – choose a kids church worker, a cleaner/janitor, an administrator, or tea/coffee maker, and either give them a shout out or bring them out to the front in your main service. Let others know how grateful you are to have them serving your congregation.
Take photos of your volunteers serving and post them on social media.
Thank them through your church Facebook page or any other social media you might use. Take lots of photos and tag them. Your volunteers are very proud about what they do and will love the fact you're celebrating their work.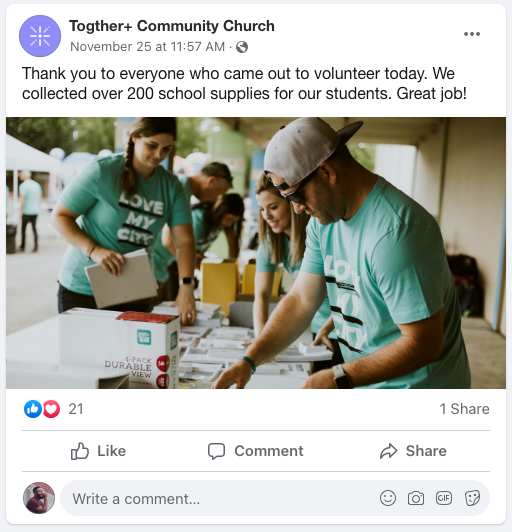 Offer to write letters of reference for students volunteering with you.
Don't forget that volunteering for any area within the church looks great on a CV or resume. Offer to be a reference or write a letter of recommendation.
Provide refreshments and snacks regularly at volunteer events.
Set up a coffee bar, hot cocoa bar, or dessert bar for your volunteer team. Be sure to include a sign that shares your thankfulness for the volunteers who serve.
Tell your volunteers' stories.
Take the time to interview your volunteers and write up a few stories to share via the church website, mobile app or newsletter. By putting the spotlight on them and the great ways they're serving the church you'll not only make them feel special, but their stories will help inspire others to step-up and serve. One great example is how the Gathering Baptist Church showcased their volunteers in a fun way. After hosting a drive thru food pantry this summer for their community, the church put together a volunteer video recap showing just how much food was donated and what a great turn out it was.
Listen to your volunteers and engage with their ideas.
Volunteers often have great ideas and fresh perspectives. Give them regular opportunities to provide feedback and share their ideas through digital forms and surveys. Listening to people who regularly serve your church day-in and day-out is critical to not only showing appreciation for volunteers but gauging the health of your volunteer culture. See how to do that → 
Show them how they fit into the big picture.
No matter how small or insignificant a task may seem, every volunteer wants to see how their ministry connects to the vision of the church. Remind them regularly that the work they're doing is important to the church's mission. Show them how they're making a difference—share success stories, include stats from the day, how many people they've served, and what the overall results were of their work. Knowing how they've made an impact on their community makes them feel fulfilled and deepens their sense of purpose.