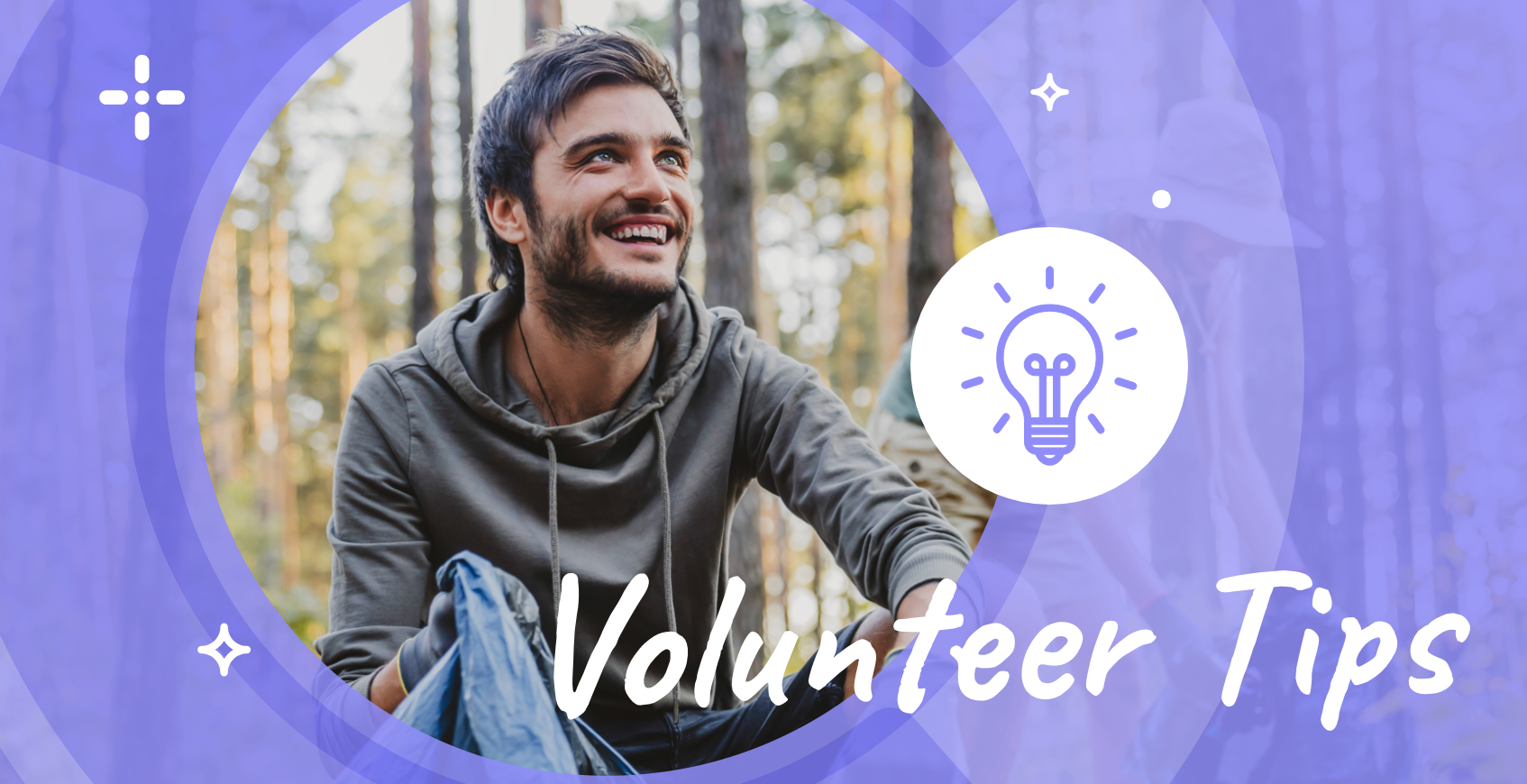 Sometimes, the real challenge isn't recruiting volunteers for your church, but rather, it's encouraging them to stick around by opening the door to new opportunities and providing a meaningful experience. Here are a handful of helpful tips to help you attract the best volunteers (and keep them!)
Make a volunteer's

job description

clear from the get-go. This means before they've even signed up, they know what it is you're asking them to do and how they can be successful in their role. When sharing volunteer opportunities list specific volunteer needs so people know exactly what is needed and when.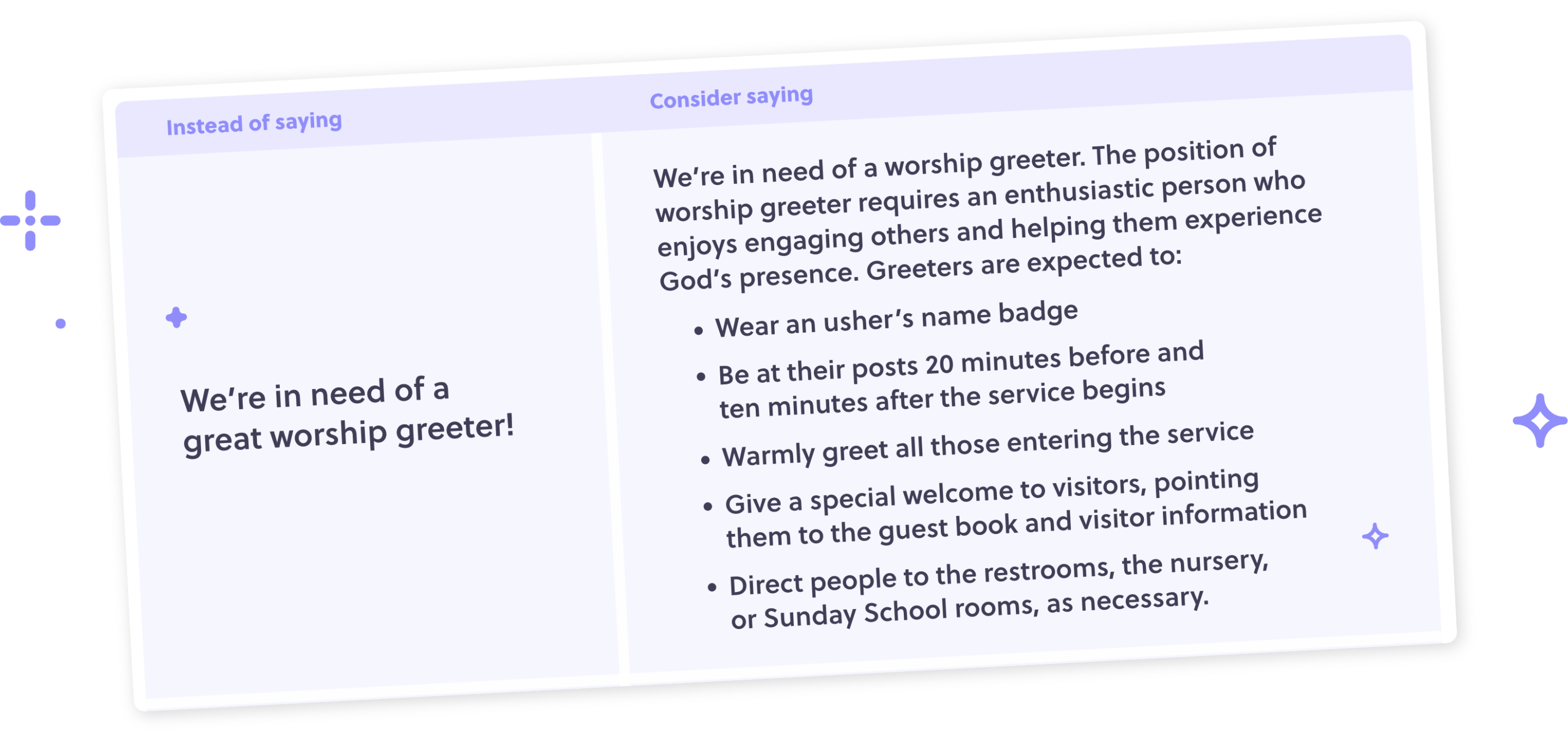 2. Offer opportunities for everyone
Make it clear there is something for everyone with sign up slots for both more-involved and less-involved opportunities. Consider any barriers to helping out that may be impacting people's ability to volunteer from physical health, mobility, and transportation to overall time commitments based on the tasks and roles needing to be fulfilled.
3. Provide a great experience
A volunteer has taken time out of their day to be there, so start with a personal greeting and a smile. Show them around and introduce them to others. Help them make connections and feel included and appreciated. Let your volunteers know that you care about them and they'll begin to care about what you care about (your mission!)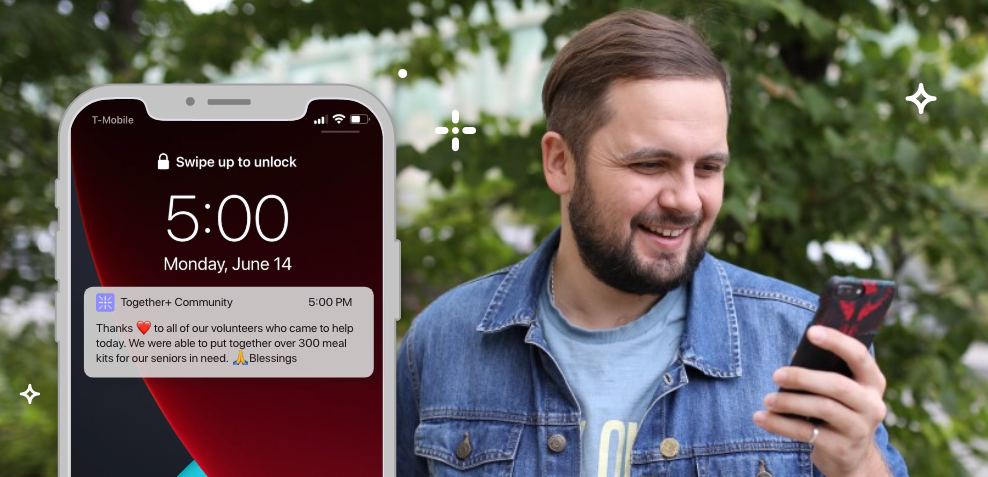 4. Provide training (if needed)
Although the job may seem easy to you, it may be completely unknown territory for the volunteer. Take the time and effort to provide them with any information, tools, or technology they may need to get things done and help make them feel ready to do a great job.
5. Be flexible and respect their time
People have a lot going on and it's important you respect their time. Be honest with how long you expect things to take. If something will be 4 hours, don't say it will only take 1 or 2. Your members have busy lives outside of the ministry, just like you do. Be as considerate as possible when creating volunteer tasks and allow volunteers to create their own volunteering shifts that fit their lifestyle.
Help current and potential volunteers to connect more personally with your church's mission by keeping them informed of all the stories and successes in an engaging way. Always remind them what's at stake and why their contributions are making an impact in your community. Volunteers want to know that the time they spend directly impacts the lives of others in some way – and it does! Help them to see that!
7. A little volunteer recognition goes a long way
If you think about it, there are few things a person can give that are more valuable than their time. Recognizing your volunteers for their time and efforts is key to better volunteer engagement and retention. Volunteers are more likely to stick around when they feel appreciated. They look to your church for a sense of community, kinship, and an opportunity to feel good while doing good. Small touches of appreciation (hand written cards, shout outs on the stage on Sundays, potlucks, offering letters of recommendation, etc) mean the world to your volunteers.
8. Implement check-ins with regular volunteers
Take the time to talk, listen and consider suggestions for improvement. Make an effort to learn about their volunteer motivations and what skills members want to leverage and develop during opportunity fulfillment at your church. Sending out surveys and/or polls is a great way to do this! Oftentimes, surveys + polls yield more candid and honest answers because people don't feel at risk of hurting anyone's feelings.
9. Most importantly, don't get discouraged!
Keep in mind that volunteers come and go; it's just the nature of volunteer work! Your member's availability and priorities change based on what's going on in their lives. The best thing you can do is to continue to be flexible, to keep learning, give grace to yourself, and to try new ways of engaging your members to inspire them to give back.
10. Meet members where they're at
Reach your people in real time. Texting, mobile apps, and push notifications are great, easy to use tools + channels you can use to conveniently connect with volunteers in a way that fits their lifestyle. By creating a volunteer hub or event hub within your app, members have easy access to event details like dates, times, and locations as well access to revelants forms, links, and other resources.
Want to learn more tips + tools to rally your church members?
We can help light the way. Check out how to get started here.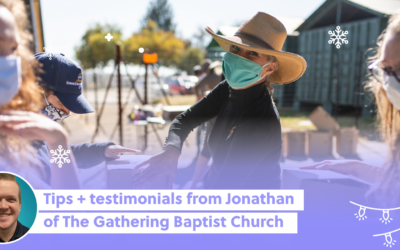 Be merry + bold "I feel like the biggest strategy to increase volunteers is just asking. Being open and honest and saying, 'Hey we need you to come help.' The strategy is whenever we need something, we're gonna ask you for it. Maybe that's a strategy that's been lost...
read more
Find more tips + tricks on engaging volunteers this Christmas season.