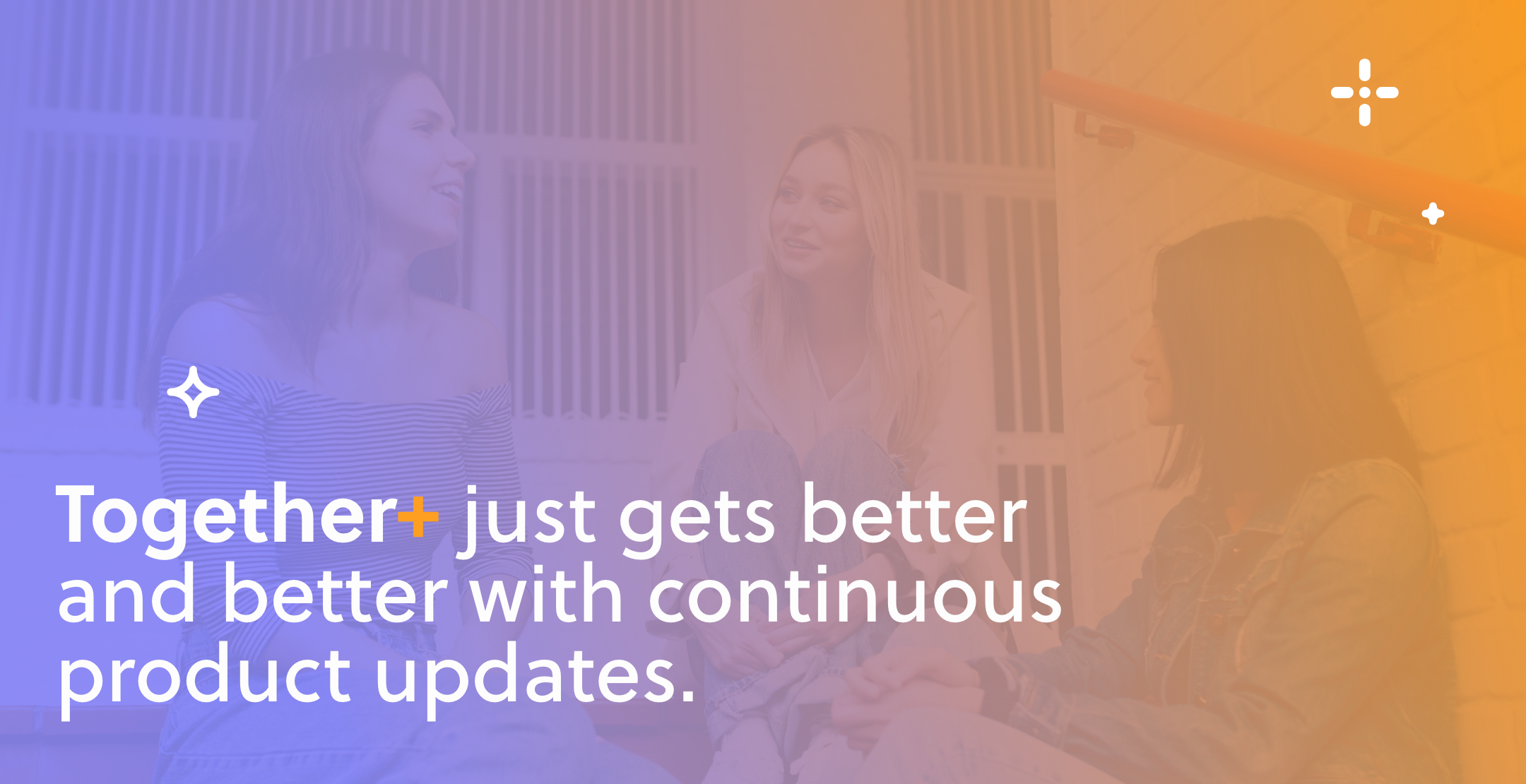 We're always working hard to help our church partners win back time, cut stress, and take member engagement to new heights. Here's what we've been up to lately to make Together+ an even more engaging, intuitive platform for you and your team:
Redesigned portal experience
The year of home improvement projects and DIYs inspired us to do some zhushing of our own—to your
Admin Portal
. Now, when you log into aware3.net, you'll see a redesigned login page. Consider it a fresh coat of paint on your front door. 
Once inside, you'll find a revamped navigation bar. To make editing and making other changes more intuitive, we put all the app features in the App section.

More notably, you'll find that the old "Connect" tab is now called "Messaging." And, no surprise it's where you'll go to send Push and Text Messages. The goal is to make managing your engagement tools as straightforward as possible. No more clicking from tab to tab trying to figure out what it means to "connect." Small but meaningful tweaks like this really do make all the difference! 
Speaking of clicking from tab to tab, in the past, you may have found yourself working on the content of one feature in the portal and then wondered how you got there. We know how nerve-wracking hitting the back button can be, so instead, we are leaving you a trail of what we call "breadcrumbs" at the top of each page. This means, now you can see your path from page-to-page within the portal. 
A redesigned portal experience means less guesswork for you. If you are editing an Info Page that is part of a Feature Hub that is part of your App, we now show you how to navigate your way back at the top of the page.

Giving reports that dig even deeper
The Reports tab is here to help you find answers in a snap. Partners like you have shared that you want to be able to use your data quickly and easily. You've asked for simple ways to find answers to questions like, "How has our giving changed from year-to-year?" or "Who just gave to our church for the first time?" And now you can! 
The most actionable data is available as a ready-to-run report template. In addition to reporting templates, you also have the option to customize your reports further for a deeper dive.

If you've already pursued Reports on your own, feel free to go visit them again to check out the "Share" and "Download "buttons, built to help your team work together to grow your giving strategy.
Real-time transaction notification emails
Now that you know how to find trends in your portal, here's a feature that's coming straight to your inbox. 
As an admin you can now receive an email notification every time a new gift is made. You don't need to randomly check in on the giving tab in the portal. We'll let you know when there is a new transaction to check out.

You'll have the information you need right away to say "Welcome", "Thank You", or "Got it" to that generous person who just gave to your mission. We want to help you get the right message to the right person at the right time.
When it comes to
push messages + text messages
, there's no longer a 15-minute buffer to get them out. You can truly send them instantly so no one misses a beat. Real-time notification in real-time, simple as that.

Level up Interactive Video with Info pages
When our church partners make a request, we listen up! That's why in addition to giving, registrations, note-taking and other awesome features, admins can also add info pages straight to their interactive videos.

Our church partners have gotten really creative with ways to use Interactive Video outside of Sunday service. We have seen fundraisers, volunteer registrations, baptism classes, and more happen with the support of video content in the app. Now, you can mix and match text content with video content to leverage the flexibility this feature was intended to offer. 
Now go wow us with even more creative ways to use Interactive Video!