Q & A with Amy Eger and Tom Bogenschutz
from All Saints Parish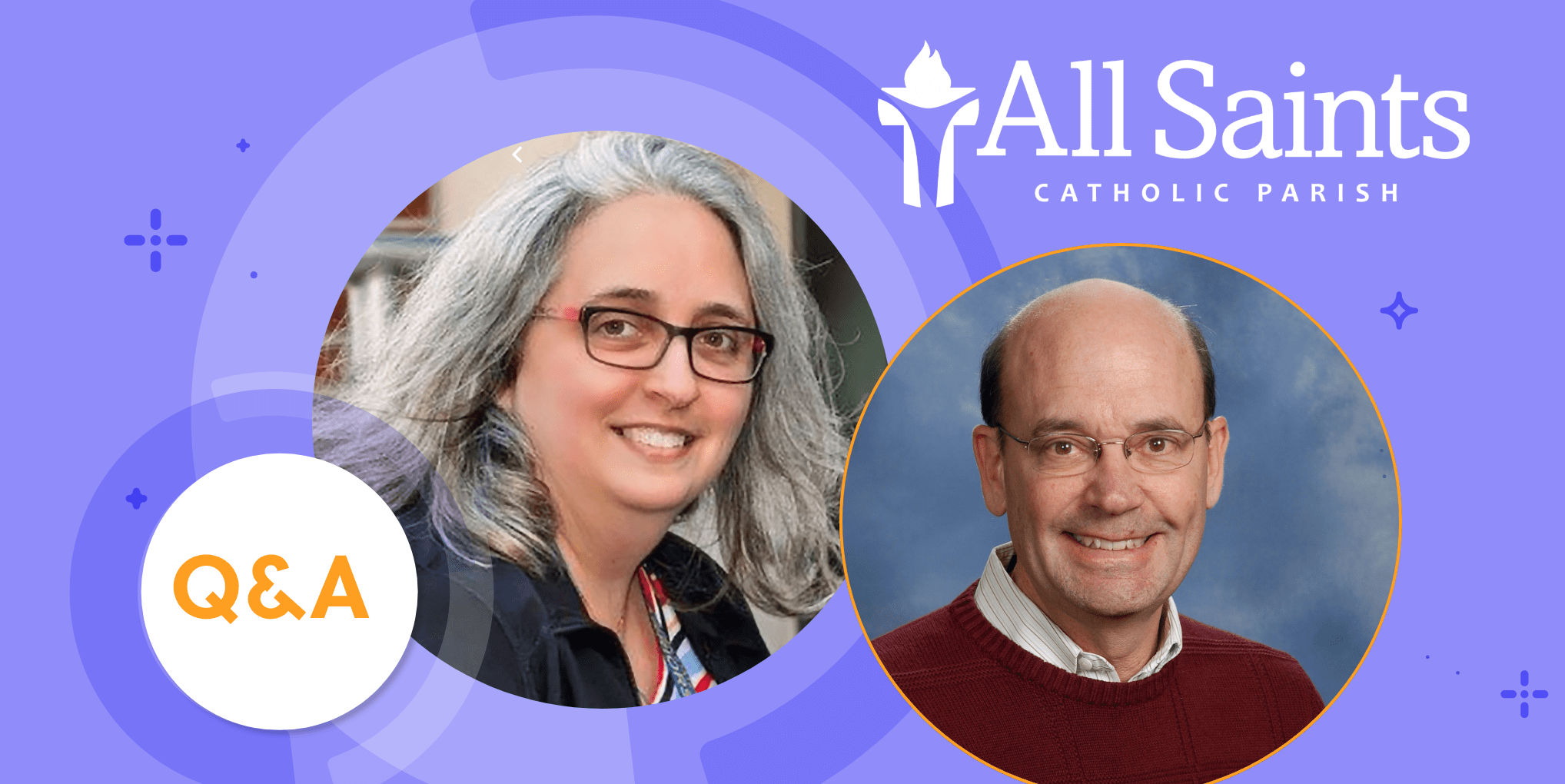 When COVID-19 flipped the world upside down overnight, All Saints Parish rallied their team together to meet the needs of their people. Steering committee members, Amy Eger and Tom Bogenschutz, share how their Parish has evolved and what digital strategies have helped them see success amid the Pandemic.
What does "church" look like at All Saints right now?
We're starting to see a little bit more participation on Sunday. We are adding, averaging on a weekend between two liturgies. 
" In July, we were seeing 60 to 70, and now we're double that."
Our staff doesn't have as much traffic inside our office, but more things to do. We are definitely mailing more and having more phone calls than we have in the past.
Since March, we've gotten a much better grasp on who is actually active in our church. Early on, our steering committee recommended we get to know how we should community, to whom, and what we needed to communicate.
What roles served on your steering committee and what were those roles responsible for in developing your strategy?
We have staff members who are talented in the marketing aspects and pulled them in right away. Amy and Peggy, members of our administrative staff, joined since they were the ones who were well-versed in the functionality of the platform.
Once COVID happened, it was imperative that we add the parish nurse to provide health updates and insights. We had marketing, stewardship, administration, and health experts coming together to button up our strategies. It was a dynamic that worked well.
When you're putting a steering committee together for something as large as COVID, you have to look at all aspects that go along with the changes. You need to ask your team "How do we do church now?" and "What does the future look like for our congregation?"
With what we're facing, you also have to address who we are missing from the picture. There are individuals we are not serving right now that might want to have our parish or just ministry in their life. Our digging had to go even deeper, we had to cover topics from health to stewardship.
Overall, we needed to keep an open mind. The world changed in an instant, and we had to navigate differently than we have in the past.
How did your communication strategy shift to a more digital mindset?
Having electronic expertise in the same room allowed us to ask "How can we do this?" and "Can we do this?"
For example, we needed to address the group of parishioners who receive information through bulletins, during a time when we aren't sending bulletins out. [Amy] went out and did research on things we have done in the past, like robocalling. Once we have our options, the pastoral side of the staff then pieces together the content. Knowing what medium we are shifting to has been a great support.
" The app was seen as fringe two years ago, but now it's front and center. And we believe it will be the only thing in the center two years from now."
That's where we're evolving. Our committee is asking "How can we bring all aspects to life through this tool?" and "What has to happen for it to be successful?" Essential aspects of Parish life, like communication, information, and inspiration, are now all living within the app ecosystem.
We're now wondering how do we integrate this tool in such a way that people really keep coming back to the app and making it essential?
What are some challenges you're experiencing in this strategy?
Growing digitally means someone on staff needs to run ahead of everybody else and become the visionary. They need to take charge to see the vision and come up with a way to achieve the goal.
Amy has done really well with digging in and seeing what the potential is. From this, we have tightened up our strategy and the process has become more seamless.
One person commented to me "You only need to tell me once, not ten times." He's receiving phone calls, letters, app messages, and emails. Members get hit from a lot of different angles, but that's what we need to do these days, right?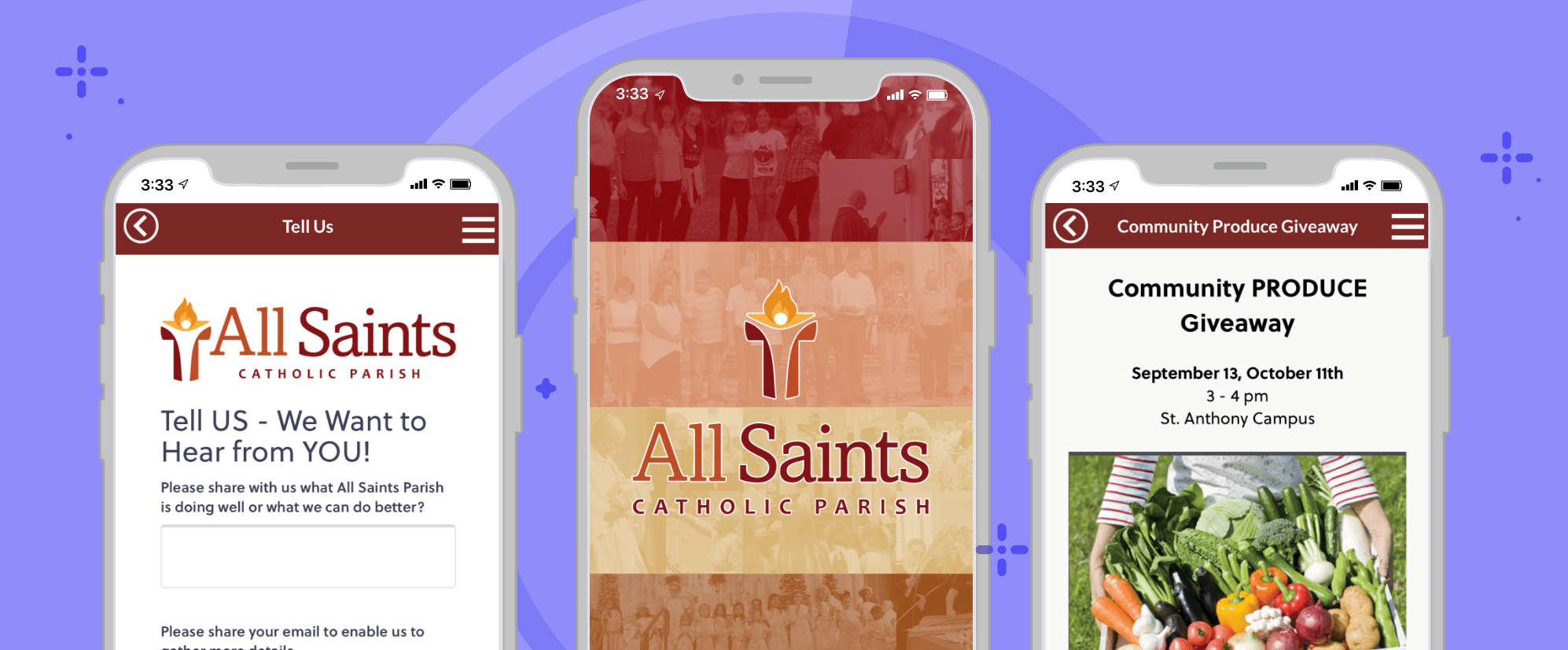 Have you noticed one strategy that has worked better for one generation over the other?
For 65 and older, they rely on more direct mail or the phone call strategy. But really, we underestimated how virtual every age was going to be. Before COVID, we were on a plateau in terms of growth. Electronic communications allowed our growth to become continual.
Our "core" members gradually became more engaged. It was great hearing 80 year-olds say, "Sign me up, I'm ready to go!" We were all navigating together and were blessed to have these tools in place.
We're speaking with many churches who will continue this strategy further down the road, becoming permanent. Do you think it will be the same for All Saints?
Absolutely. It's all about learning what those tools can really do and thinking about how, as the Church, to capitalize on them. We are continually working on how to educate the staff so they will think these things through when we're planning our strategy moving forward.
Over the past two months, every church we have spoken to has been expressing ways they direct their communities to the app, showing it provides the line of hope and engagement they may not have had in a physical setting. How did you direct parishioners to your app during this time?
We actually felt it was more COVID than us. Honestly, March was our spike. Parishioners tuned in large quantities and we have experienced much steadier download numbers since. In these times, people were looking for hope and resources.
For example, our Celebrate Mass button has seen a huge jump of engagement. It has toppled our virtual mass viewership. It was amazing to see how one little app button created a buzz in the short amount of time we were using it.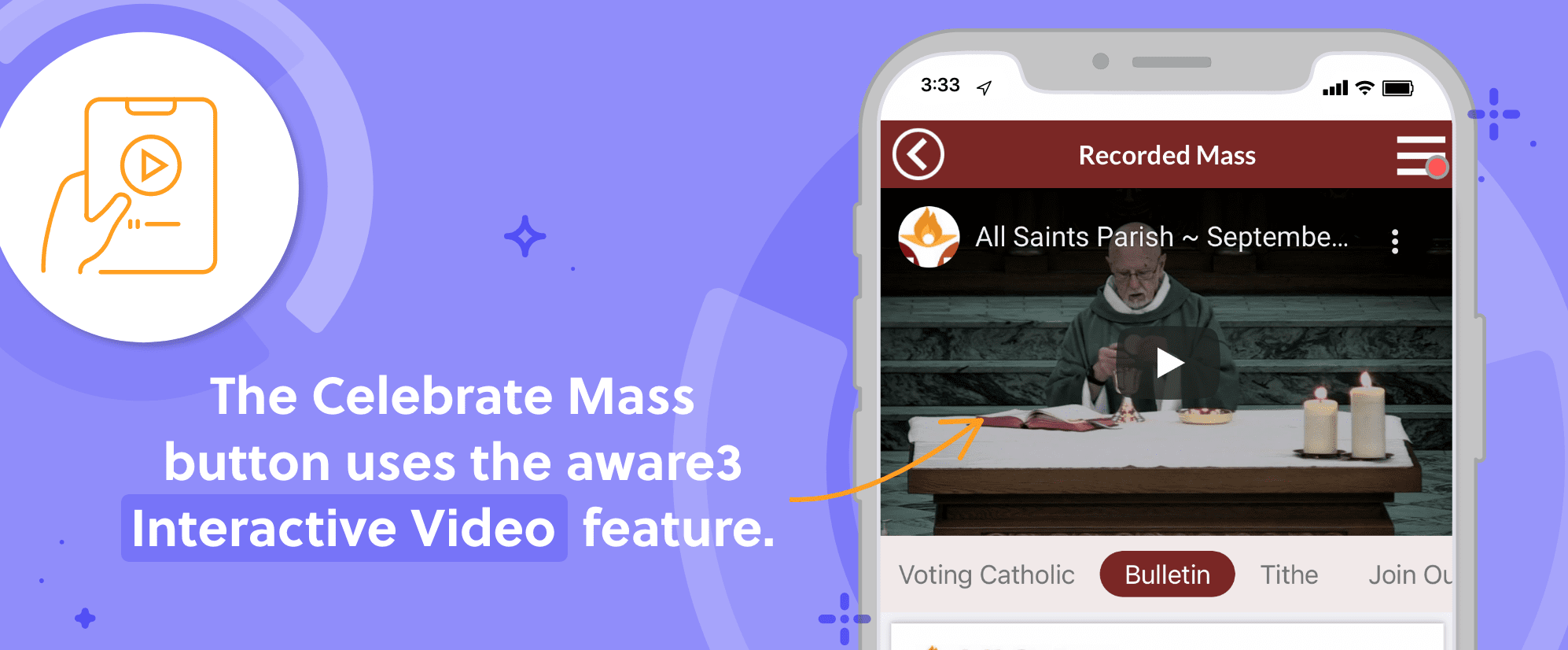 Do you feel like some of these tools played a part in delivering a sense of hope?
The thing that has been most comforting for parishioners is for them to see their pastor. They appreciate his message and it brings a sense of normalcy we're all missing, you know? During this time of constant health unknowns, our community is nervous about his well-being. But seeing him during a service delivering his dad jokes brings ease to all.
Were there any other successes you've seen?
Tom has led our first Bible study! He had a great group and it was well attended each week. It was new for the group, with it being the inaugural one, but it was encouraging to see them communicate together and to connect in ministry.
Thank you, Amy and Tom! Your team has provided a direct line of hope to your community that we know will inspire churches around the nation. We are so grateful to have church partners like you!
Webinar: Leading Through Change
Keep the conversation going with Amy and Tom of All Saints Parish as they share trusted tools, admirable advice, and more.