Easy, personalized giving for them.
Simple, centralized management for you.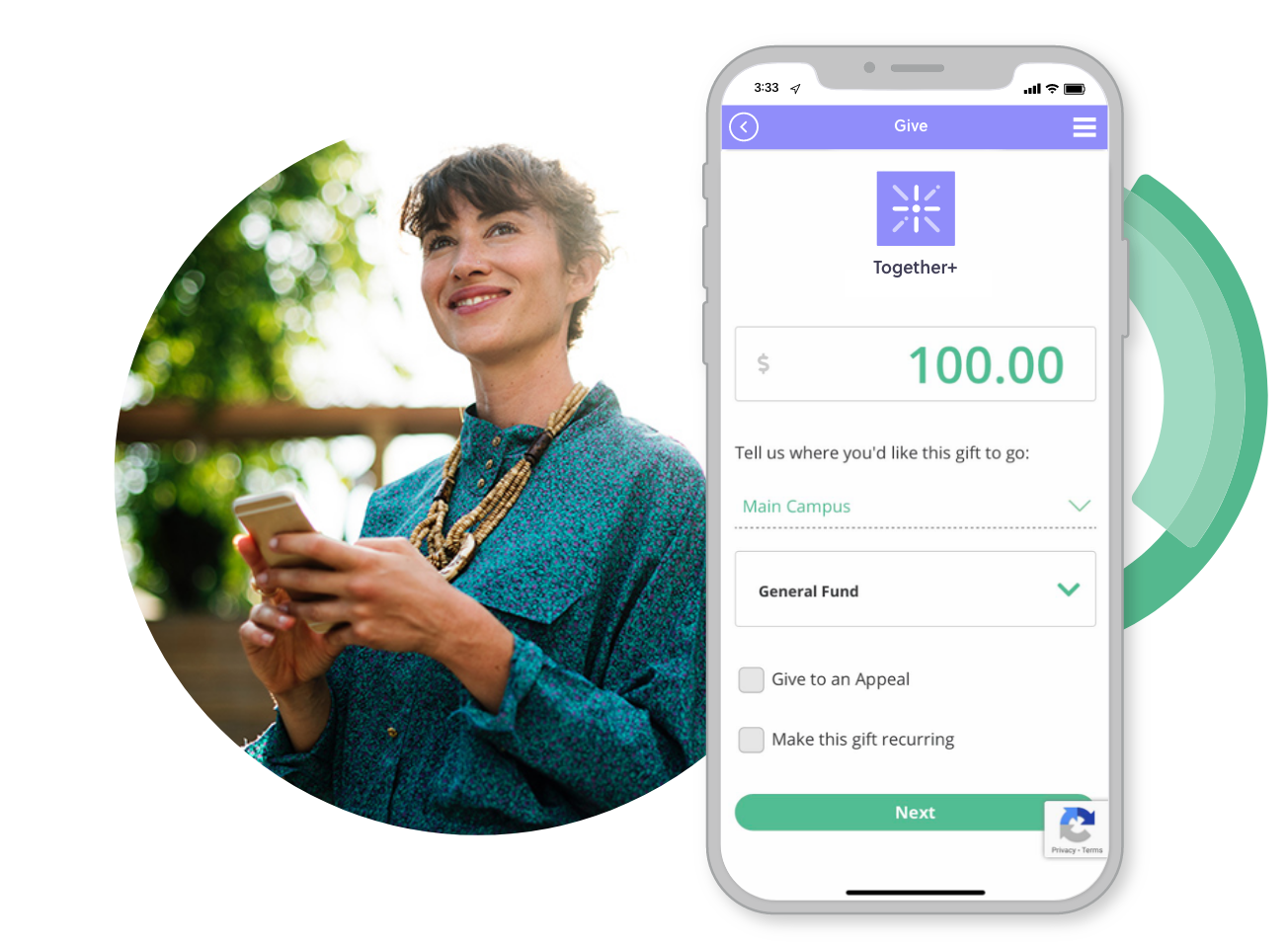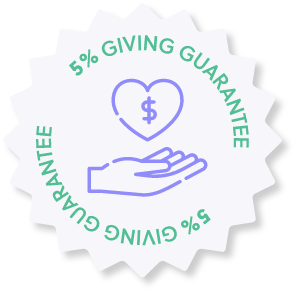 On average, our church partners using digital giving for the first time see a 31% increase in their total giving. Church partners who switch from other giving providers increase their total giving by at least 5%. We guarantee your giving will increase by at least 5% too, or your money back.
Nothing should get in the way of giving.
Forgotten wallet or password? Don't need them. Wanna pass a virtual offering plate? Now you have one.
Our easy-to-use suite of mobile, text, and online giving eliminates all kinds of barriers to giving.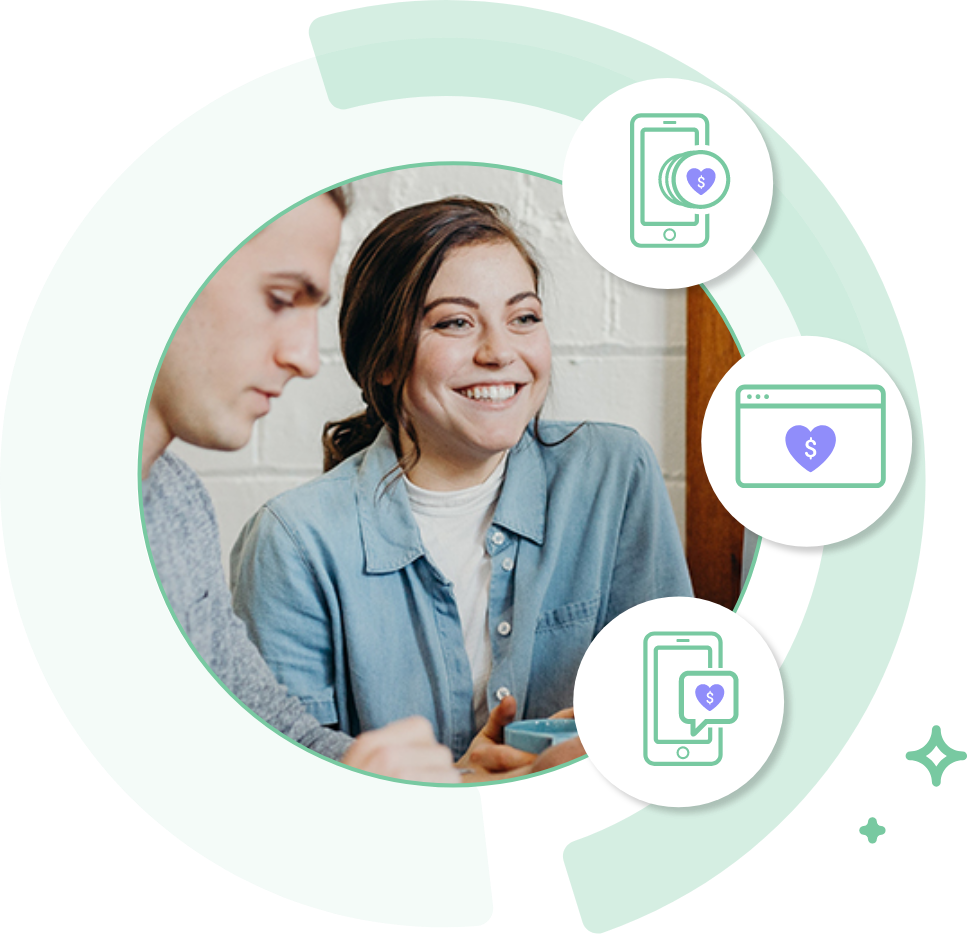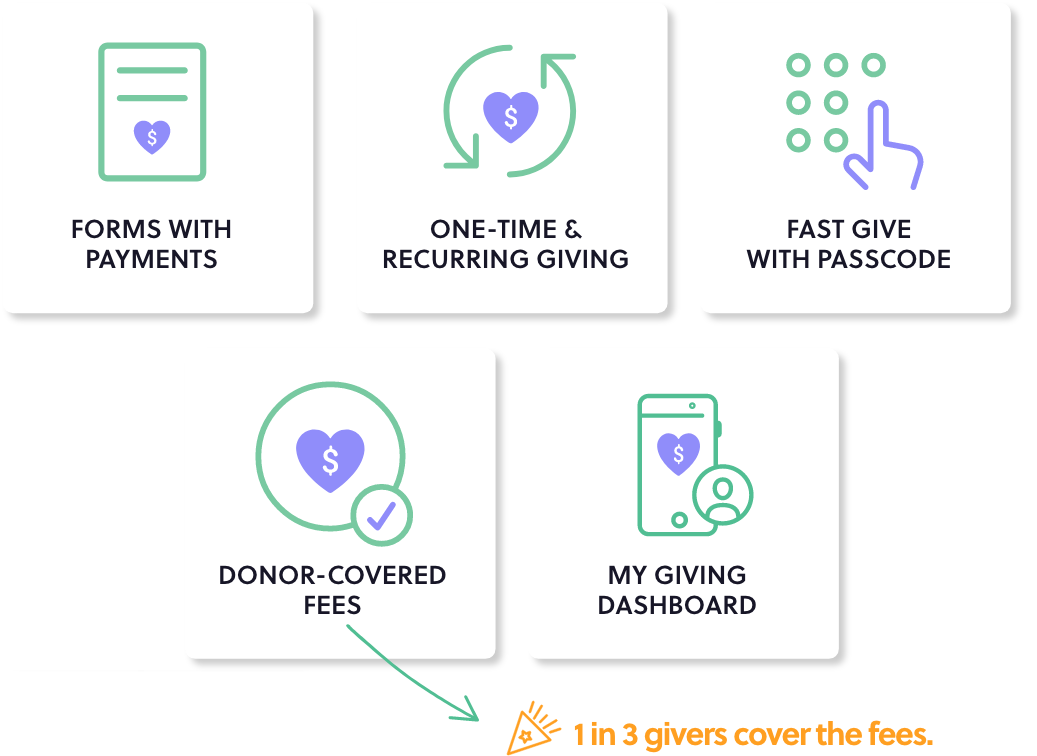 ROBUST PERSONALIZED FEATURES FOR MEMBERS
Members can securely give in the way that feels right for them.
Here, giving gets personal. Your members will be able to easily access and set-up one time or recurring giving, edit dates and amounts, and manage it all from one place.
Plus, with donor-covered fees, members can easily extend their generosity even further.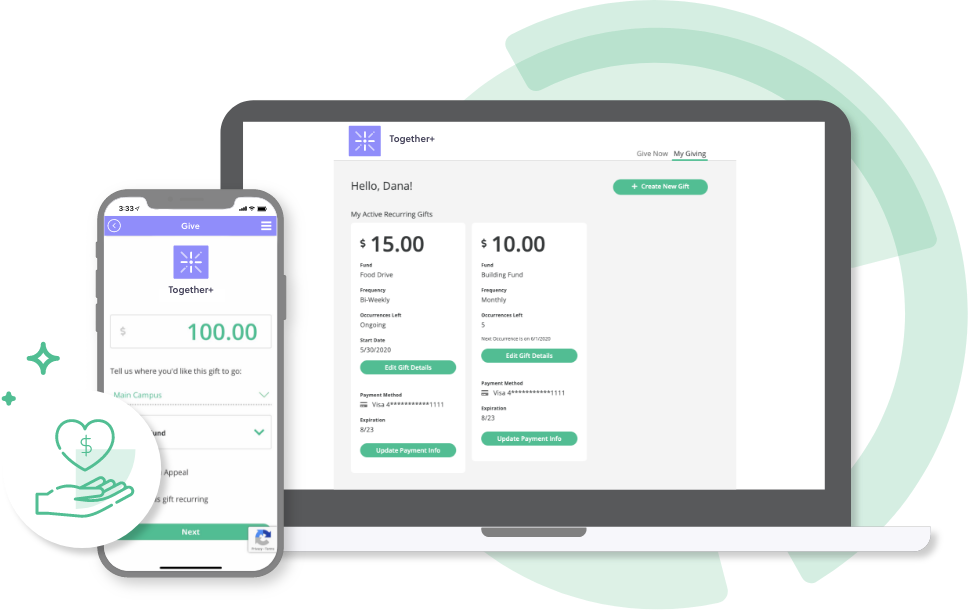 "Giving through our
app couldn't be easier."
Greg Doebler, Lead Pastor, Crosspoint Church
SEE HOW AWARE3 CAN GROW GIVING AT YOUR CHURCH
CROWDFUNDING & FUNDRAISERS
Help givers connect with church causes.
Connection is the key to making an impact and raising more funds for church and community initiatives.
That's why we built accessible, secure donation pages that let your members connect with the heart of the cause and confidently share links with friends and family via email or social media.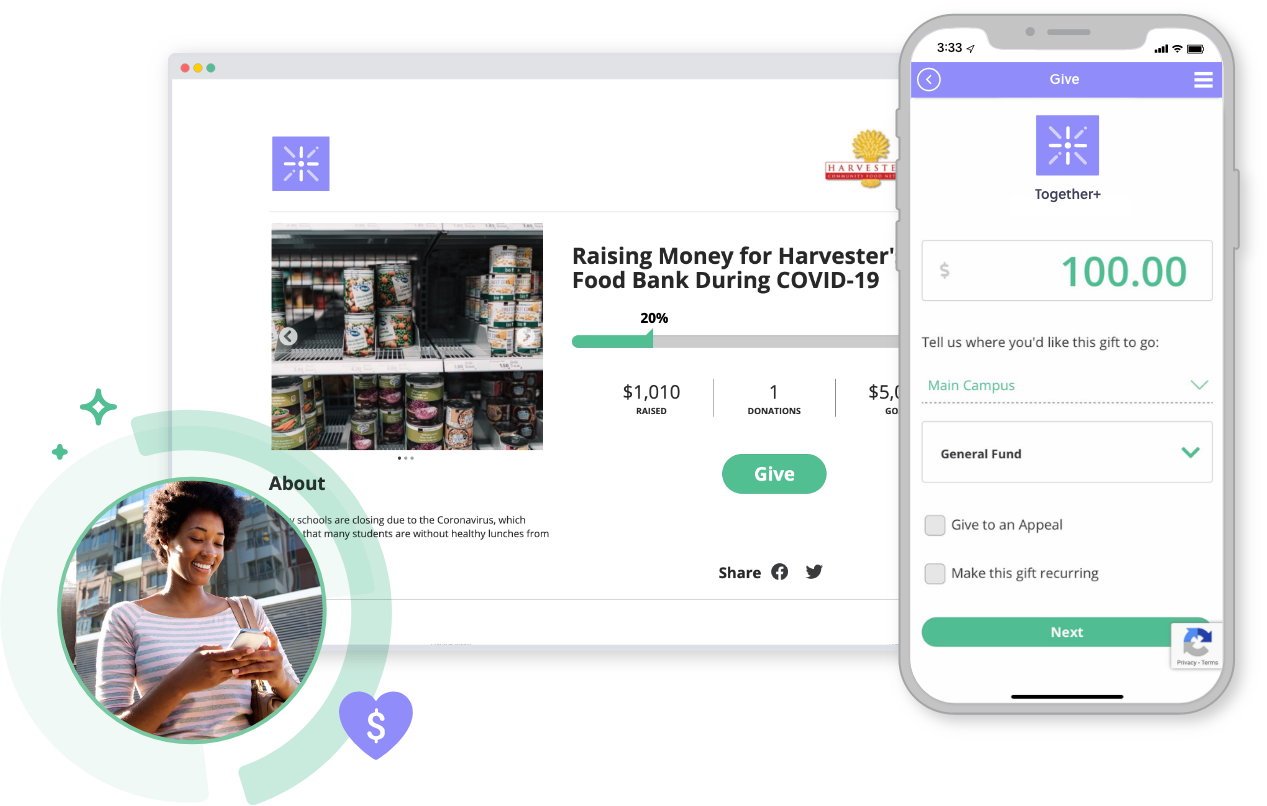 POWERFUL GIVING FEATURES FOR ADMINS
Simplified giving management for admins.
From personalized, automated giving receipts to real-time reporting & reconciliation, the right tools will make management easier and less stressful for your admins.
GIVING DASHBOARDS, DATA & INSIGHTS
Get a 360 view of giving.
Let data & insights take your giving to a whole new level. With admin Giving Dashboards, you'll be able to see giving trends, preferences, fund breakdowns, and so much more.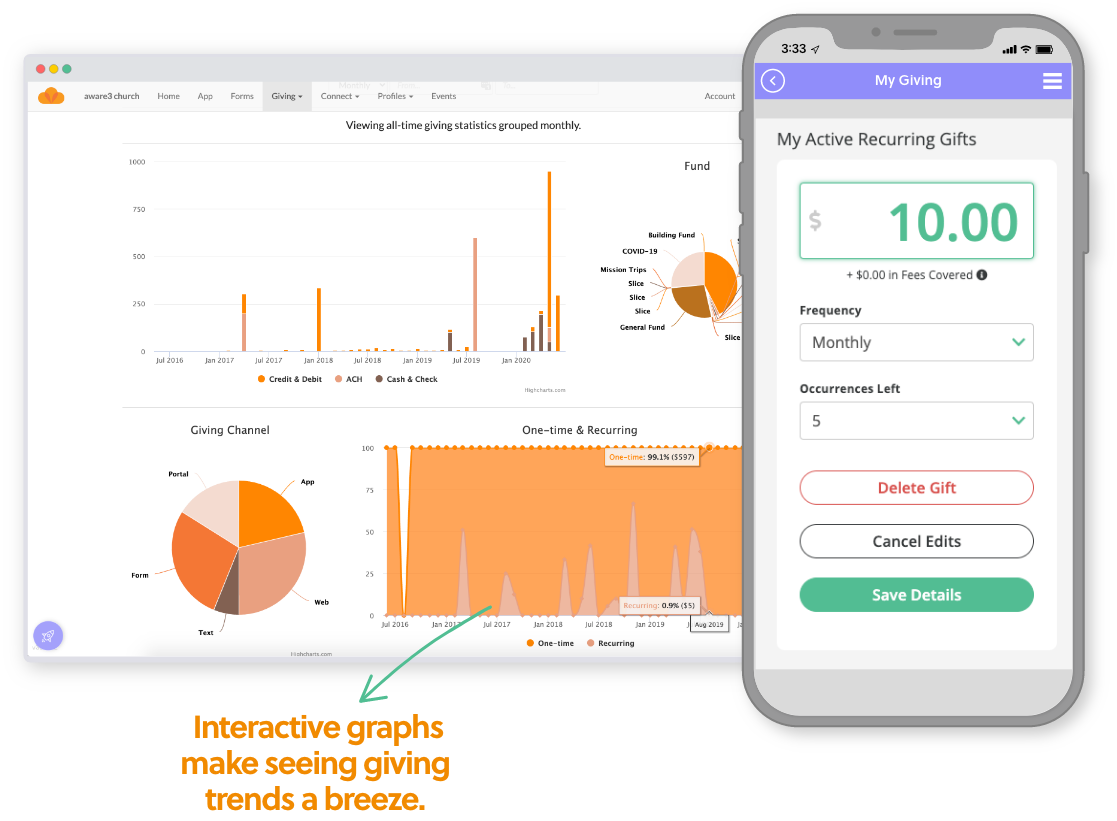 Q – How will this increase my giving?
A – Our church partners using digital giving for the first time on average see a 31% increase in their total giving. Church partners who switch from other giving providers increase their total online giving by at least 5%. Recurring giving, accessibility, and ease of use make more engaged givers. People fueled by generosity in their lives feel more fulfilled and have a greater positive connection to their faith and community.
Q – How secure is your giving platform?
A – All financial-related data is encrypted and stored by our payment gateway, PaymentSpring. PaymentSpring has earned the highest level of PCI compliance, Level 1. Level 1 PCI compliance is a set of rules stated by credit card companies and audited by an independent third party. Additionally, all transmission to our banking partner and on our site is via an encrypted SSL connection. No financial information is stored on our servers or yours.
Q –
Can I use aware3 Giving without launching a church mobile app?
A – Yes! We believe that giving is fundamental to all organizations, so our giving platform is available regardless of whether you're interested in a mobile app.
Q – I have an existing giving provider. Do you have any best practices about making the switch?
A – Glad you asked! Check out this one-page guide with our tips and recommendations.
Q – How do I get started?
A – The first step is contacting our expert giving team to get the ball rolling. They'll get you started with filling out a merchant application and establishing a relationship with our processor, PaymentSpring. You'll be collecting digital donations before you know it!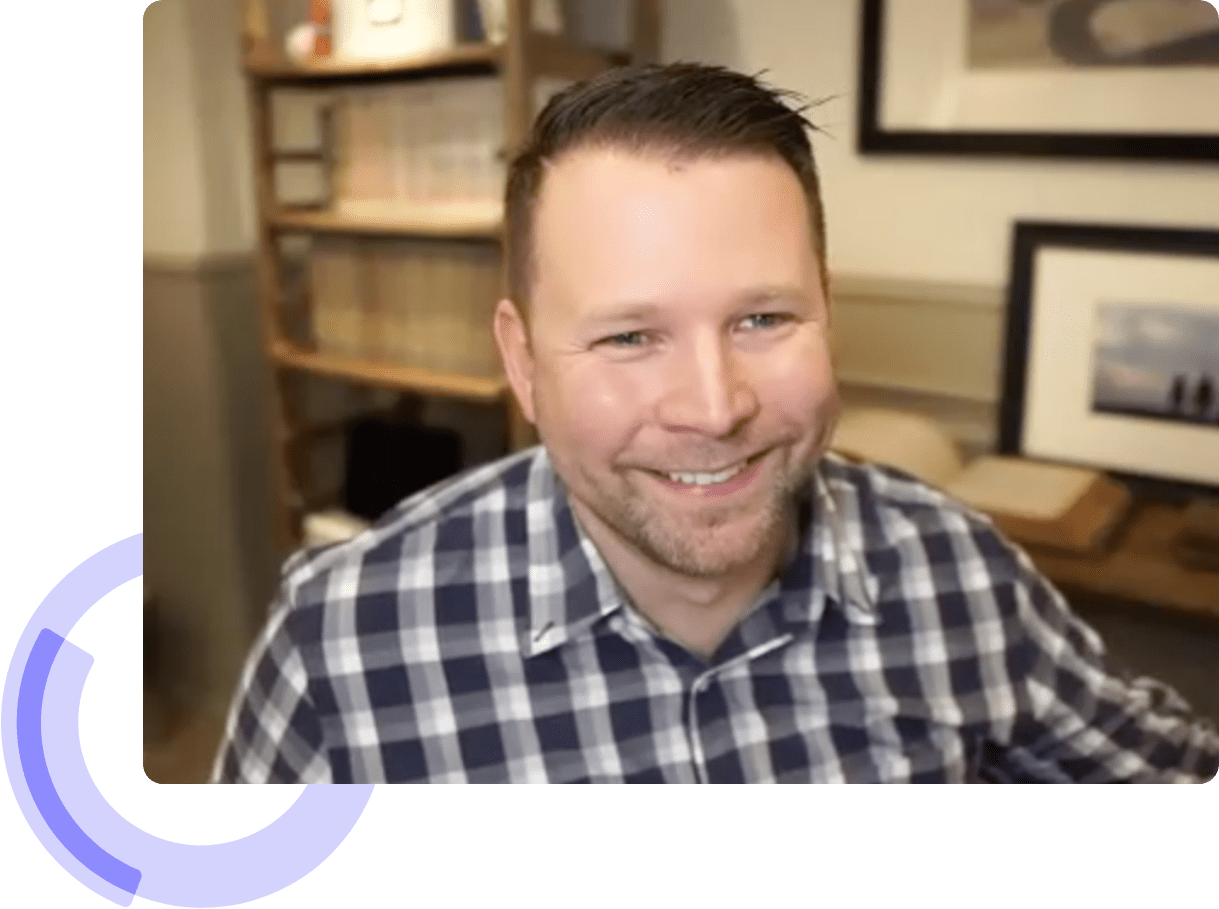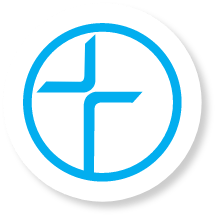 "Several years ago when we first partnered with aware3 and started building our app, we realized that giving mobile-y is a powerful way for people to engage. In every other part of their life they've got their mobile devices out… so why not meet them where they're at and make it simple for them to do something that's really important."
Bobby, Executive Pastor at Sugar Hill Church