How to use interactive video to boost participation, giving, and connection.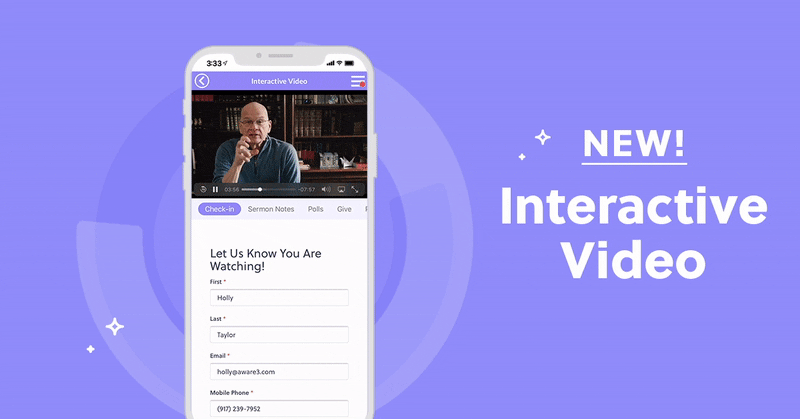 Virtual church got you feeling disconnected from your members? Is participation or giving not where you want it to be? To help churches shake that static, one-sided feeling video can have, we created Interactive Video.
What is Interactive Video?
Interactive video connects the physical and digital in the moment. It's an easy, accessible way to get your people actively participating, giving, and engaging with your message through in-video tools.
Simply upload or live stream any video and your people will be able to instantly interact with you in a number of ways. Here are a few things members and visitors can do right from their video screen in real-time:
Interact with Links
Share relevant resources, organizations, and other links with your members in the moment.
Send prayer requests
Empower members to share prayer requests right when they feel called to.
Fill out Forms
From connect cards to registration forms, your members can easily get involved from the bottom of their screen.
Take Polls
Instantly see what your people believe, how they feel about something, or what ways they can/will act on something. Polls are also a great way to have some fun with your members or introduce a topic.
Take Notes
As members watch the sermon or participate in a small group, they can conveniently take notes throughout the message—without missing a beat.
Give
Whether you're promoting a community initiative or taking the offering, you can link crowdfunding and giving pages right in the video so that members can give in the moment—Cut out extra steps and confusion!
Example 1: Sunday Morning Service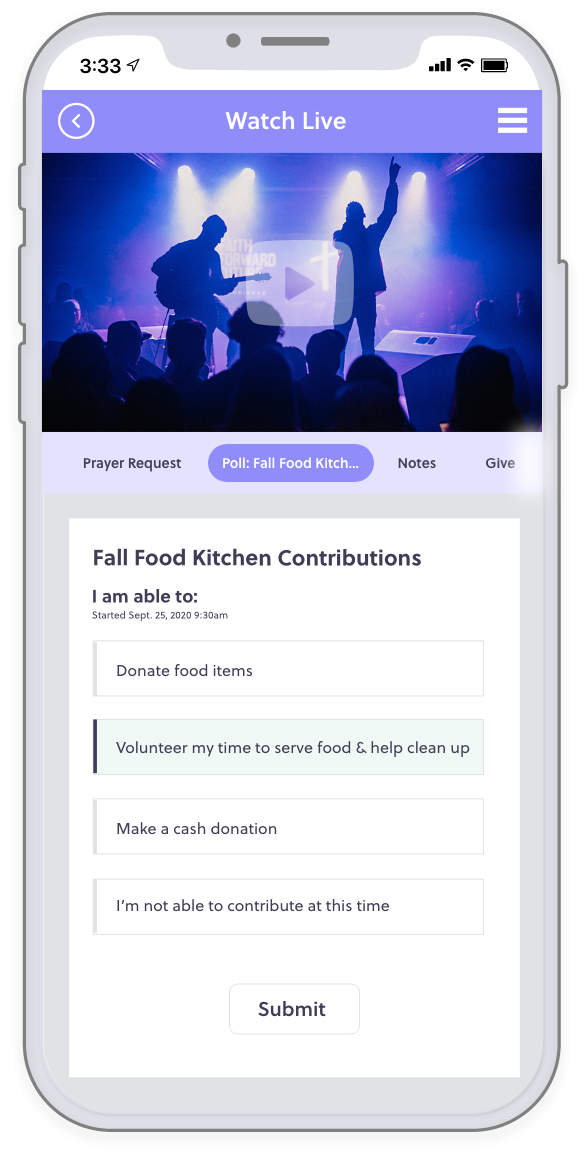 Here's what using interactive video during a Sunday Morning service could look like. Keep in mind you can use as many or as few of the tools as you'd like.
Imagine it's Sunday morning, you're ready to kick off another virtual sermon*. Your members have coffee in hand and your face on their mobile phone. On the bottom of their screen, they have a tabbing system where they can easily participate in real-time. You remind them that they can fill out the outline provided and take notes through the "sermons notes" tab on their screen.
Mid-sermon, you tell your members there's an opportunity to help the local food kitchen this fall, but you need more resources. You ask them to indicate which way they would be able to contribute by poll. Your members easily click the poll tab and choose the answer that best fits them.
I am able to:
Donate food items

Volunteer my time to serve food and help clean up

Make a cash donation

I'm not able to contribute at this time.
*Currently supports YouTube Live
Example 2: Campaign Video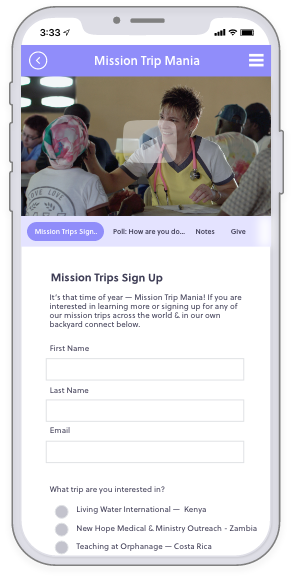 This is an example of how you can use interactive video to promote church initiatives, events and more as well as drive your members to act from one place.
Your church has decided to kick off "Mission Trip Mania", a campaign that highlights the church's mission trips for the year and calls on members to participate or sponsor a volunteer. You've put together a video that gives a brief description of each mission trip and then calls members to act at the end.
With interactive video, members see the video, get excited in the moment and respond right there. Members like Robin, Tony, and Tamara are so moved by the story behind one mission trip, they immediately tap the "volunteer" tab and sign-up for the trip.
There's also several members who would love to participate, but aren't able to join this year so they make a donation and commit to sponsoring a participant right from the video.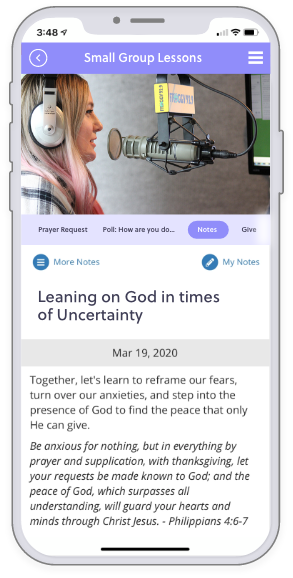 This is an example of how interactive video could be used for small groups.
It's Thursday afternoon and small group is under way. Over the past few weeks, Becca, the small group leader, has been facilitating discussion and bible study around the topic of "Leaning on God in times of uncertainty." Members have loved being able to take and share small group notes without leaving their screen.
Since the series is now wrapping up, Becca wants to hear feedback from the other members so she asks them to do a survey from their "form" tab.
As the small group goes on, another member, Dominic, hears a bible verse that compels him to send a prayer request for a friend. With interactive video tabs, he sends the prayer request in the moment–without missing anything.
As they come to a close, Becca invites everyone to take a poll about what small group time and day works best for everyone now that they are shifting into the school year.
We'll leave you with a little Interactive Video Inspiration
Interactive video is perfect for upping the interaction in your virtual sermons. It's also a fantastic tool for other church events, interactive trainings, campaigns, and more. The possibilities are endless. Take these ideas and run with them!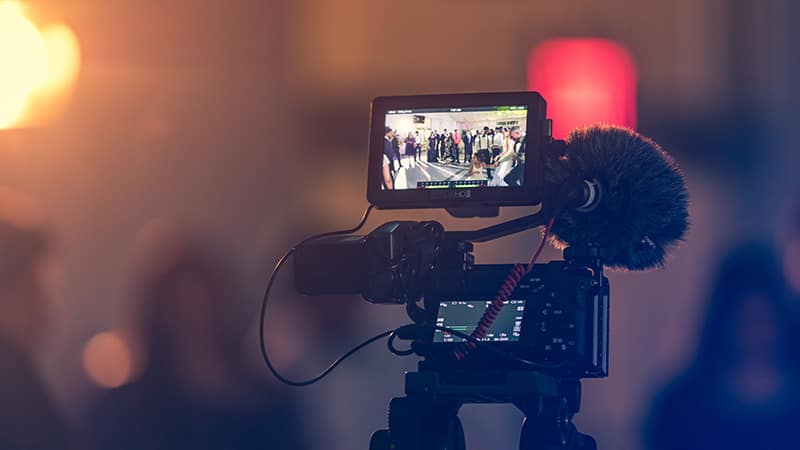 Video Devotional
Relevant links to books and other resources

A call for members to get involved and serve

Call for prayer requests
VBS
Create a poll for kids or parents

Add sign-up and registration forms

Call members to give to a VBS event or activity

Provide notes for kids to fill out

link out to a worksheet/coloring page

Post video activity
Topical or seasonal conversations + initiatives
Link to different relevant organizations/resources

Call members to give to the church or missions. "Donate to help those on frontlines of COVID-19"

Member survey: "What questions would you like us to address next week?"

Do a "How are you feeling" poll

Register to volunteers

Post video activity

Call for timely prayer requests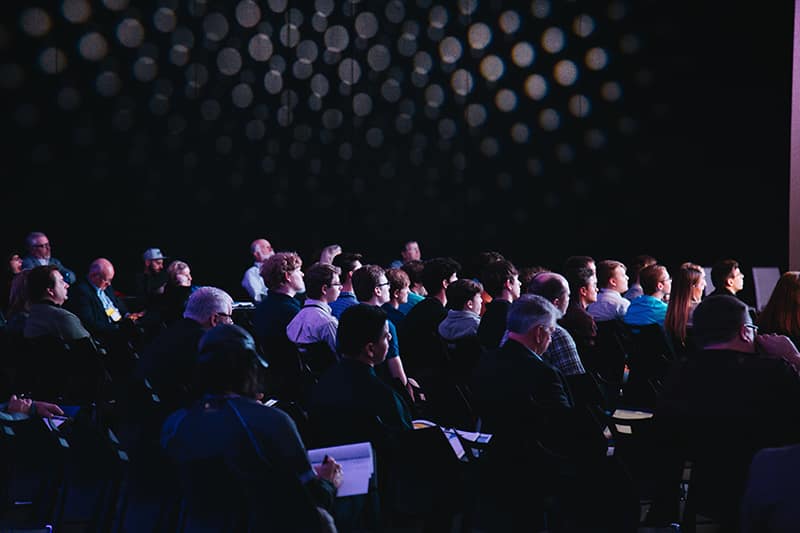 Conferences/events
Members registration for events through forms to participate, volunteer or provide resources

Poll to "vote for the fun activity"

Take a survey: "what questions do you have for our speaker?"
Mission Trip prep + training
Add registration forms

Link to training resources + tips

Take participant polls

Call for support through giving

Provide a checklist with forms

Call for prayer requests
Campaign videos
Tell the story of your latest series, campaign, mission or initiative

Ask a thought provoking question with polls

Gain support for the mission through the giving tab

Sign up volunteers through registration forms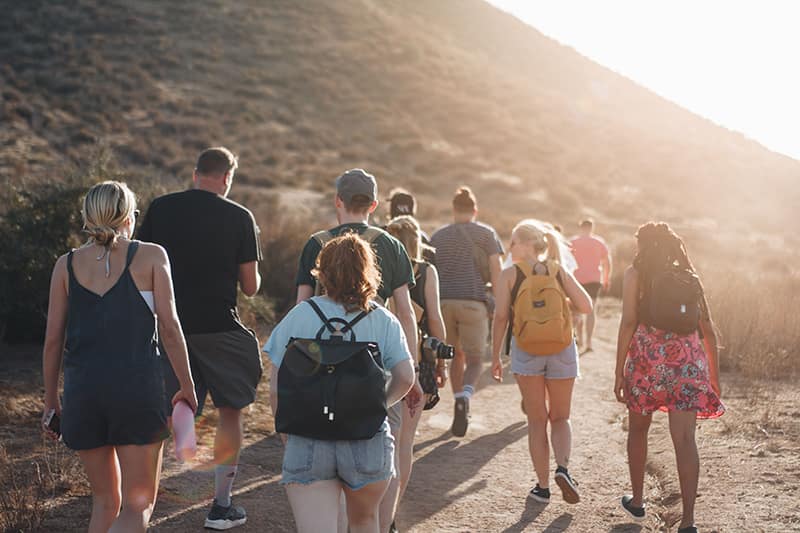 Back to school
Encouragement video for church students and parents

link out to relevant resources pages

Take a poll on how they're doing or what they're anxious about

Call for prayer requests
Holiday-related
Thanksgiving

Get members signed up to help at a thanksgiving church event

Take a poll on what members are most thankful for

Call members to give to a thanksgiving initiative

Christmas/Advent

Encourage members to take Sermon notes

Do a polls on favorite traditions or bible verses this time of year

Have members fill out a forms on what members took away from the message
Ready to turn your viewers into doers?
Ready to abandon the idea of passive viewing, while amping up your people, giving, and registrations?