In today's digital age, churches and schools have recognized the importance of creating engaging and informative digital reports to share with their communities. These reports not only provide valuable information but also showcase the organization's achievements and activities in an attractive and accessible format. From dynamic infographics to interactive multimedia, the possibilities for creating compelling digital reports are endless. In this blog, we will explore the five best examples of digital reports from churches and schools that excel in both content and presentation. We hope these examples serve as a source of inspiration for those of you looking to create your own exceptional and inspiring digital reports.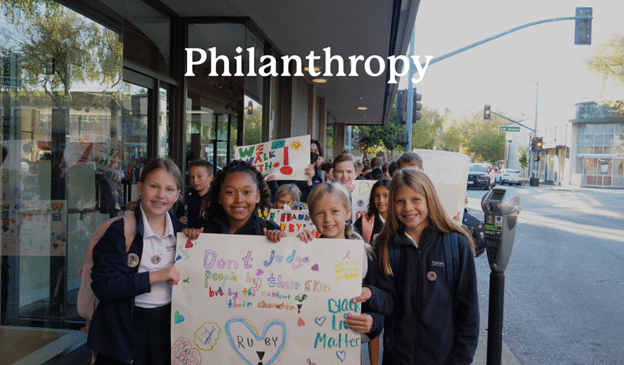 This digital report does a great job of building an emotional connection with readers and telling their unique organizational story at the same time.
Why we love this digital annual report:
Donor lists: Stakeholders can scroll through dozens of donors which help build a community around the mission.
Brand colors and fonts: Readers are reminded of this organization's unique brand story through the use of unique fonts and colors.
Infographics: Data visualization helps readers better understand financial information and other important metrics. With a better understanding, these readers are more compelled to give.
Photos: Images of students and faculty help build an emotional bond between readers and the organization—ideal for encouraging donations and ongoing support.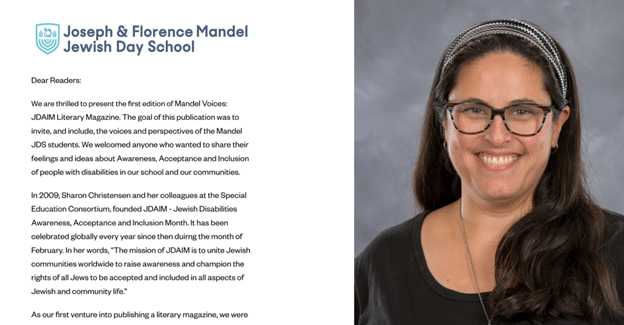 Mandel Jewish Day School showcases all of its accomplishments with excellent design and clarity. Namely, they impress readers through:
Spotlights: Mandel showcases specific students and their accomplishments throughout, making this digital report feel personal.
Reiteration of values and mission: In the introduction of this digital report, Mandel reminds readers of their core goals.
Photos: Images of student art and of staff allow this digital report to feel visually engaging and authentic.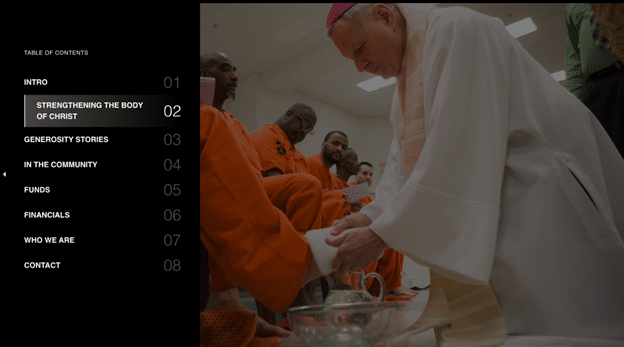 The Catholic Community Foundation of New Orleans does an excellent job of making its annual report engaging and interactive. Readers feel connected to the mission of the organization and are compelled to read on.
Why we love this digital annual report:
Clickable links: CCF includes links to further information, donation opportunities, and more.
Videos: Readers can watch videos as they scroll through this annual report, and even share them, too.
Photos: Images of staff and beneficiaries help readers feel connected to the mission.
Donor lists: With comprehensive donor lists and transparency into revenue from these donors, CCF builds trust and shows gratitude.
Links to event sign-ups: While reading, stakeholders can sign up for events right from the report.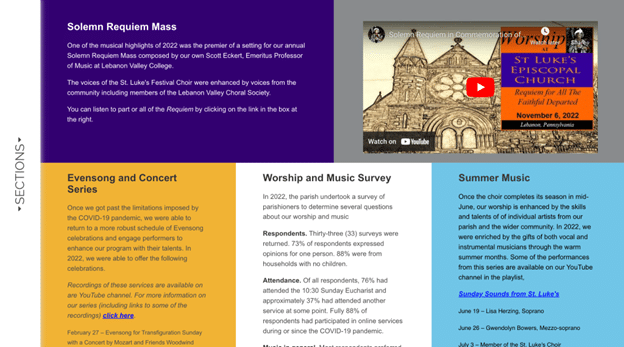 St. Luke's digital report is a great example of interactivity and transparency in action. Eye-catching and entertaining, this report inspires with ease.
Why we love this digital annual report:
Links to social media: Readers can follow this organization on social medial right from their report. This is a great way for the organization to build community, and increase awareness of its mission.
Program and intuitive updates: Supporters of St. Luke's can read detailed summaries of ongoing initiatives and their progress, inspiring them and building trust.
Detailed financial information: Readers want to feel in control of their contributions. By including detailed financial information, readers know exactly where their money was spent.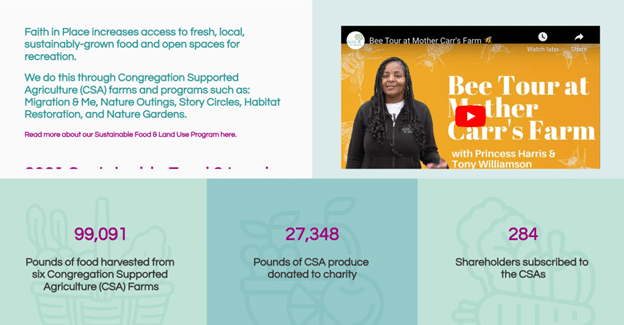 Faith in Place entertains readers, and engages them, right from the start. Unlike paper reports, this report is full of interactive elements that keep readers feeling connected and excited.
Why we love this digital report:
Videos: Videos of programs and initiatives offer readers an inside glimpse into this organization's operations. More transparency helps build trust—and excites readers.
Clickable resources: Faith in Place does a great job of offering readers additional information, without compromising readability. Bu including clickable links, readers can get more information and more context, if needed.
Event registration details and links: Instead of sending out an email about an event or posting on social media with an entirely different asset, this report includes event registration details right in the report.
Need more inspiration? Check out the best digital annual report examples of 2023!
Wrapping it Up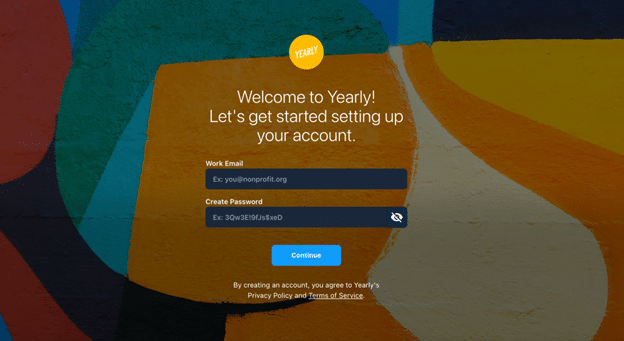 Regardless of your nonprofit organization's mission, a digital report is a great way to excite readers, show gratitude, and turn readers into lifelong donors.
With templates, drag-and-drop editors, and a mobile responsive platform, anyone in your organization can create award-winning reports that help you make more impact than ever before.
If you are looking for a partner to help you create your annual report, Check out Yearly's free 14-day trial.