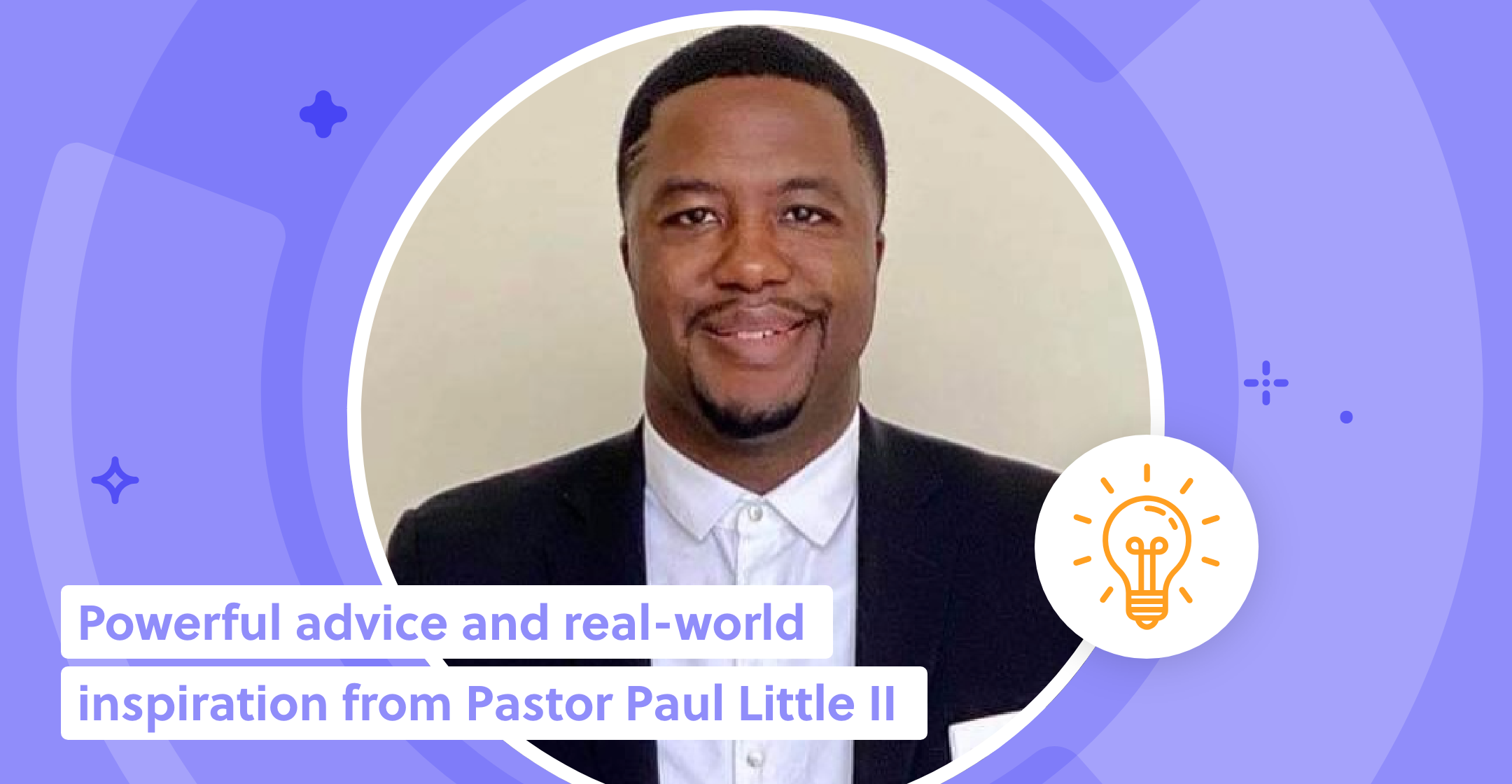 An aware3 church partner since 2017, Pastor Paul Little II has wowed us with his ability to meet the needs of his community, pivot when needed, and connect with his people in simple yet powerful ways, like mobile engagement.
At his church, Bibb Mount Zion Baptist, texting isn't just another feature, it's a part of their culture. From small groups to giving to outreach, see how this Georgia-based congregation has used texting to build momentum, grow together, and even win an award 🏆
"My vision will probably not change, but my strategy will always change. And mobile engagement has to be a part of the strategy for us securing the future. We absolutely love it and count it a blessing to be able to partner with you guys."

Pastor Paul Little, II
What is your favorite thing about Text-to-act?
A:
"My initial thoughts about Text-to-act is the level of convenience that it offers for our congregation. When I started thinking about why people engaged more on the Text-to-act platform than they would our website, something more stationary, it's pretty simple. We're in a space where people are really interested in mobile engagement. So, when you think about people watching the worship experiences, most people according to stats are watching on their phones. Instead of me having to go to a website to sign up for a virtual event or sign up for some type of ministry, I can pick up my phone, send a text and it's right there in my hands. The convenience that it offers is absolutely amazing.
What is Text-to-act?

Members simply text a preselected keyword like "Connect" or "Volunteer" to your church's designated number and boom! They get an instant reply with relevant forms, links, or next steps.

It's kind of like the Amazon effect. It's so convenient for me to be able to click one thing to buy all of my items. It's also a perpetual thing that I can do on a regular basis. That's what Text-to-act is. It's a mobile opportunity for me to click and simply send a text message and the information I need from my organization is right there in my hands.
So convenience, and the second thing I would definitely say is efficiency. It's quicker, it's cleaner. Websites are great. They are going to be around until you see those returns, but I think mobile engagement is very much the trend we're headed towards, especially in light of how the pandemic has pushed us forward into the future of technological engagement. I love the fact that it is convenient, it's very efficient, it's very quick and people have started to use it quite a bit in our congregation.
It's that culture of convenience. People are busier now more than ever and so [when] we can make things simpler and easier for people, there is a better chance that we can engage them."
What is the #1 thing you are able to do with Text-to-act that you weren't able to do before having this feature?
A: "We use Text-to-act for what we call direct engagement. A website is something a little bit more secondary. You have to go to a particular site, click a button, search here, scroll here. Well, direct engagement says that we can communicate with our members in a texting format and it's not a group text. People want information but they hate group text. But, If you could text the word "conference" to sign up for our Virtual Leadership Conference then you could send that text message in your own time at your own convenience and all the information is right there in your hands.
Again, that takes engagement to a whole new level because it is more convenient. It is more efficient. It limits me having to go through 2 or 3 steps to do 1 thing. Eliminating the steps really does help people to engage more. We've seen that in our congregation. We've seen that in other congregations, nonprofits, and schools that we work with throughout the US. It's the same conversation regardless of who you talk to. It's simple. It's a quick step and you're eliminating the other parts of the process that you would normally have to do if you were to go the traditional route of having to go to a website, or something of that nature."
How often do you use Text-to-Act?
A: "We use Text-to-act every week, sometimes every day—literally. For example, our church is still 100% virtual and has been since March of 2020. We have not gone back to in-person gatherings. Everything is online from worship to small groups to leadership classes to 3D, which is our version of Sunday School, youth groups, and children's ministry. Everything is 100% online.
We use Text-to-act to engage the parents for children's ministry. To engage people who may be watching us from other areas who desire to join our church. You can text the word "join" to join our congregation. You can text the word "prayer" to send a prayer request. You can text the word "give" to give a donation to our congregation. You can text the word "outreach" to find out about the things we are doing in our local community. We literally use it every week."
We are a very active church and socially engaged congregation. We use it every week whether it's giving or signing up for small groups. We just launched a major small group campaign at the beginning of April. Text the word "tribes" (we call our groups tribes) and people were able to sign up. Over 150 people were able to sign up through Text-to-act. So, they are engaging every week. They pulled up the outline from my sermon notes through Text-to-act (Text the word "notes") We use it for just about everything."
How do you promote this feature today?
A: "Our church is very social media-driven. A lot of our promotion of Text-to-act is going to be a flier or a post on social media. We encourage people to connect with us through social media and our website. During Sunday Worship we do virtual announcements (video announcements).
I'll give you another example, we are getting ready to do a [socially-distanced] worship experience at a local stadium for our church anniversary (Our church is celebrating 159 years!). We wanted people to purchase t-shirts to wear on that Sunday in May. As people are sitting in their cars everyone will take selfies, send their photos, and create a collage of the different families and individuals with their shirts on. Now we are saying text the word "tshirt2021" to pay for your t-shirt. It's that simple.
We use it for everything. Our Sunday worship experience is really the launching pad for us, utilizing this particular feature.
I'll give you another way we use it. I may be preaching a particular message and I'll make reference to a YouTube video or an article that I read. Text the word "such & such" to our number to pull up the YouTube video or article I just referenced. Gives people a real-life way, not just hearing what I'm saying, they can interact by way of Text-to-act to see the same information that I just referenced in the sermon."
When you first rolled out Text-to-act to your church how did members respond to this feature?
A: "We really didn't get any hesitation. Of course now we are clicking on all cylinders. Now it's so overwhelmingly used, but initially it took people time to get acclimated to the new system. Anything that's new is going to take people some time.
I think our first time using it was with our Women's Ministry. In 2019 our Women's Ministry hosted a conference and they were able to encourage the women to text "women" to the number and they were able to sign up and get their t-shirts. We have a pretty large women's group and that [Text-to-act] started the ball rolling in terms of momentum.
Now it's just a thing. At one point some of my leaders said, is a website really necessary? I said, Yeah, it's still necessary. It still has its purpose, but mobile engagement is the future. That's where we are. That's where we are headed. Even more so, I think it's going to be really important for us to pivot and use these kinds of features to make sure we keep our current membership and audience engaged, and then pivot to reach a brand new audience as well."
How has this helped you connect to your community around you?
A:
"One thing I've mentioned is our church is very outreach-oriented. We were able to get a contract with the 2020 Census to use our platform for people to text the word "census" to the number and the Census form pulled right up—When I say contract, we didn't charge them for it, it was just a memorandum of understanding. We would be a platform that would put people directly to their front door. We actually received an award from the Census Bureau saying that they believe our platform helped to push the numbers in Hausten County and Bibb County. Because once again, if you go to the census website it's about 5 steps to get to the form versus 1 step with Text-to-act.

We are also currently using it for a program with FEMA helping families receive reimbursement funds for funerals of those due to COVID. We are a partner with FEMA now. Text the word "funeral" to 478-242-1116 and it'll take you directly to the site where you can fill out the form for potential reimbursement for families who lost people to Covid.
So, we don't use it for just in-house purposes. Again, we don't charge these agencies for it. It's our responsibility, we believe, as a local congregation to get those resources to our congregants as well as the greater community to make it easier for people to navigate through these processes. It's been great from a community perspective."
Where do you get your inspiration for creating custom response messages for your keywords?
A: "It's so much a part of the culture now, we'll be in a staff meeting and someone will say, 'hey, that's the keyword.' It's not even coming from me all the time because we use it so much. Our staff and our leaders will literally say "Hey, that's something that we could use with Text-to-act.'
I can't think of the last time (and I'm not speaking against websites or things of that nature), but I can't think of the last time we directed people primarily to the website for a specific function. It's going to be 'Simply send a text with the particular word to this particular number.' It's more concentrated. Even on a website, I'm having to navigate through to exactly what I'm looking for. I may see your opening page, that's great. It looks good. But, I want to get directly to what I'm looking for and so if I can redirect people specifically to those particular parts of the website that they are looking for through Text-to-act, it takes away a few steps for people.
'How do we save people time?' That's the question. Even in a virtual space, 'How do we save people time?" People are busy. People have a lot going on and we have to make it really easy for people, more convenient and efficient for people to be able to go through those particular steps without jumping through multiple hoops.
It [inspiration] comes from everywhere. Our church loves it. Leaders love it. Anyone at any time may say, 'We are planning for this particular experience. Let's use Text-to-act to engage our audience."
What advice do you have for churches and other organizations that are using Text-to-act?
A: "The first thing that I would say is that we need to come to grips with the fact that Covid-19 has accelerated organizations at least 10 years ahead with technology. That's what pundits and social critics are saying, that it has pushed people towards technology in a more profound way than any other time in human history. Which says to us, if people are more technologically engaged, is it going to be through a static, stable device like a laptop or, it is going to be with this (holds up phone in his hand)? People walk around like this all day (phone still in hand). I don't walk around with my laptop in my hand. I walk around with my phone in my hand. When I misplace my laptop, it's probably on the desk, it's probably on the bed when I was looking at a webinar. If I misplace this (holding phone up) it's an actual emergency.
We have to encourage our organizations, our churches and nonprofits to understand that mobile engagement is the wave of the future. And how we pivot to encourage people to use those platforms is going to depend on whether or not our organizations, in many cases, are going to survive or thrive.
When you think about the organizations who are dealing with a lot of difficulty, it's because they weren't able to make that leap. I think Text-to-act really gives us an opportunity to pivot quicker than what we would have done if we didn't have that type of feature. Again, you could text the word "view" to view your services or to connect with your nonprofit. You can text the word "donate" and encourage others to give quicker. I think technology is there for us to progress forward but it's also about convenience. Each organization should consider their vision as being something that isn't so stationary. We may not be changing our vision but we are changing our strategy. I think Text-to-act needs to be a part of everyone's strategy for the future."
Do you have a success story of how one of your members was able to engage with the church in a meaningful way using Text-to-act?
A: "We were on a Zoom call in January of this year where we do something called "Chat & Chill." It's where different age groups will get on Zoom and we'll basically have conversations about the vision. I meet with 18-24, 25-36, 37-45. I meet with people in those different age demographics. When we got to the middle age category, the upper 40s to mid 50s.
There was a lady on the call, and most of us on the screen knew each other, so we're saying 'Hey, Paul! Hey, Stefanie, Hey Michael, Hey Everybody!' Then, I'm getting these private messages and people are saying, 'Pastor, who is the lady at the bottom of the screen?' And I'm looking at the bottom of the screen, scrolling through pages of people. There were like 57 people. So, I looked and I was like okay, I don't know Desiree. I had to just put it out there, 'Hey guys, we're so happy to have everybody here. It's great to see you. If you are new we would love to meet you and get to know you a bit better because I do see some new faces and it would be great!' Well, with the Zoom feature, she raised her hand. So I said, 'Desiree, unmute and introduce yourself to us.' She says, "My name is Desiree. I'm so excited to be meeting you Pastor Paul. I listen and watch every week. I'm so excited to be a part of the church.' I said, 'Great! Where do you live?" She said, 'Boston, Massachusetts.' I said,'"Boston, Massachusetts, really?!' So everybody on the call was clapping and was like "Oh my goodness, God is great.' Because we are located in middle Georgia. It was really really fascinating for us to meet her.
We know we have people that watch from other areas, but in terms of her joining the church through Text-to-act I hadn't gotten that information directly, so I didn't know. Then I found out 2 weeks ago, we had a gentleman who joined from New York and then someone from California. And these people consider us as their church. They don't see it as this is my virtual church. This is my church. You are my pastor, these are my fellow brothers and sisters in Christ. It's absolutely fascinating, with that being said, we really chalk it up to Text-to-act because it gives us the opportunity to expand our reach. That's true of churches. That could be true of schools and of nonprofits. Again, my vision will probably not change, but my strategy will always change. And mobile engagement has to be a part of the strategy for us securing the future. We absolutely love it and count it a blessing to be able to partner with you guys."
We can't thank you enough, Pastor Paul! We know your openness, encouragement, and expert advice will inspire so many fellow churches.
If you'd like help navigating your church texting strategy or just have questions, we'd love to help!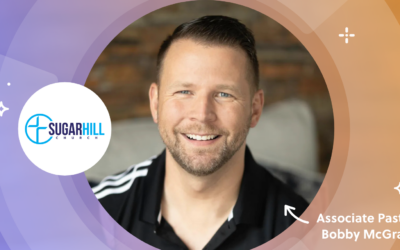 New Perspectives In Giving Strategy: Removing Obstacles To Light The WayWhen giving became more accessible and visible for members using mobile, Sugar Hill Church saw their giving strategy and engagement soar to new heights. OverviewA few years ago, Bobby McGraw,...