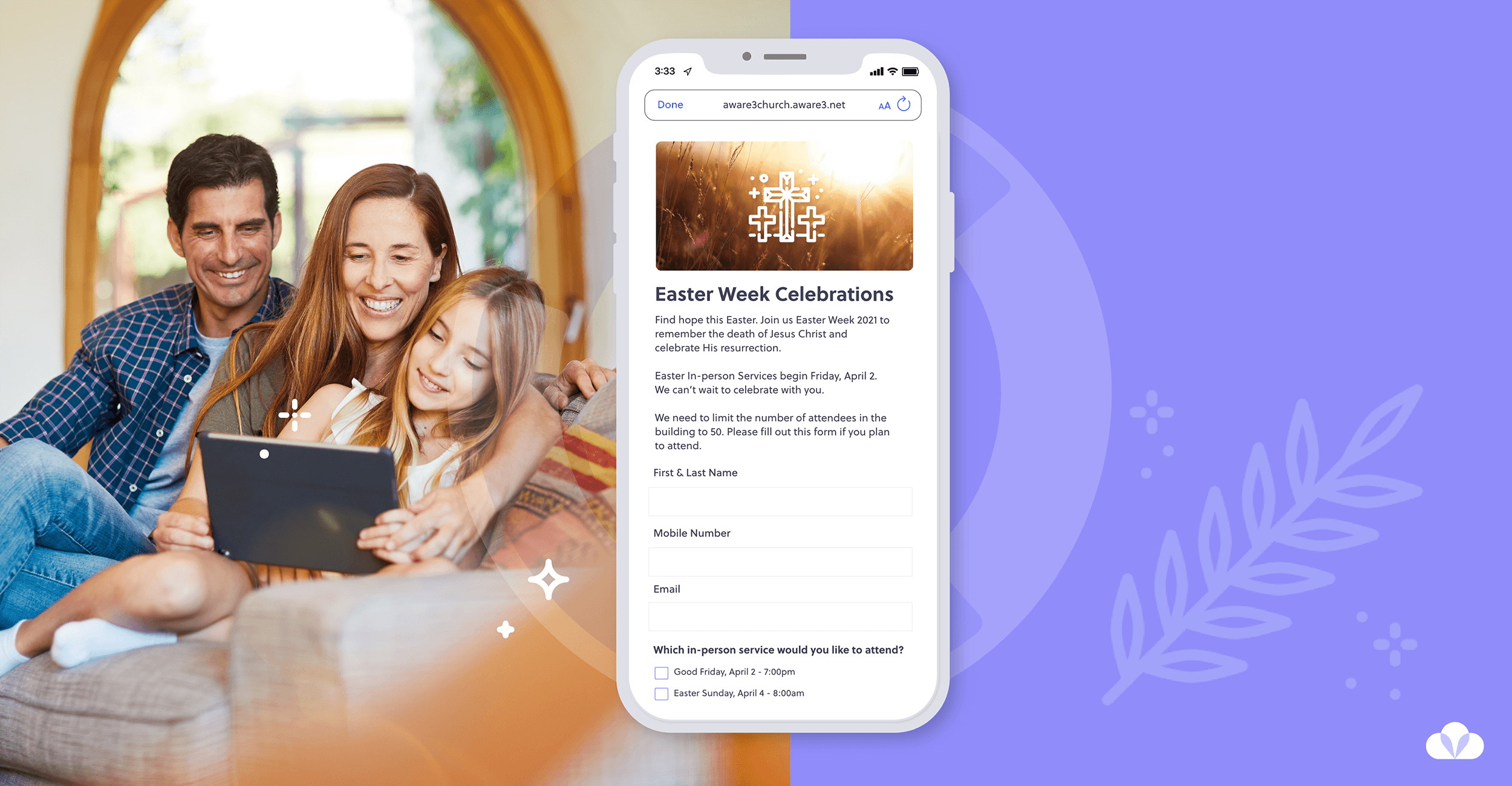 As churches navigate the Easter season for the second time during the COVID-19 pandemic, connecting as a church is looking different again this year. While some aspects of the Easter celebration may be similar to how they were in 2020, you've also learned a lot this past year and are likely approaching the season in a more unique way in 2021. Here are some easy-to-implement tech tips for navigating Easter this year.
Easter is a season full of hope, but it's important to acknowledge that this is a difficult time where people are facing a tremendous amount of stress and uncertainty. The pandemic, working from home, homeschooling, and caring for loved ones has taken its toll on everyone. Take time to empathize with your members as they navigate the paradox of hope and struggle.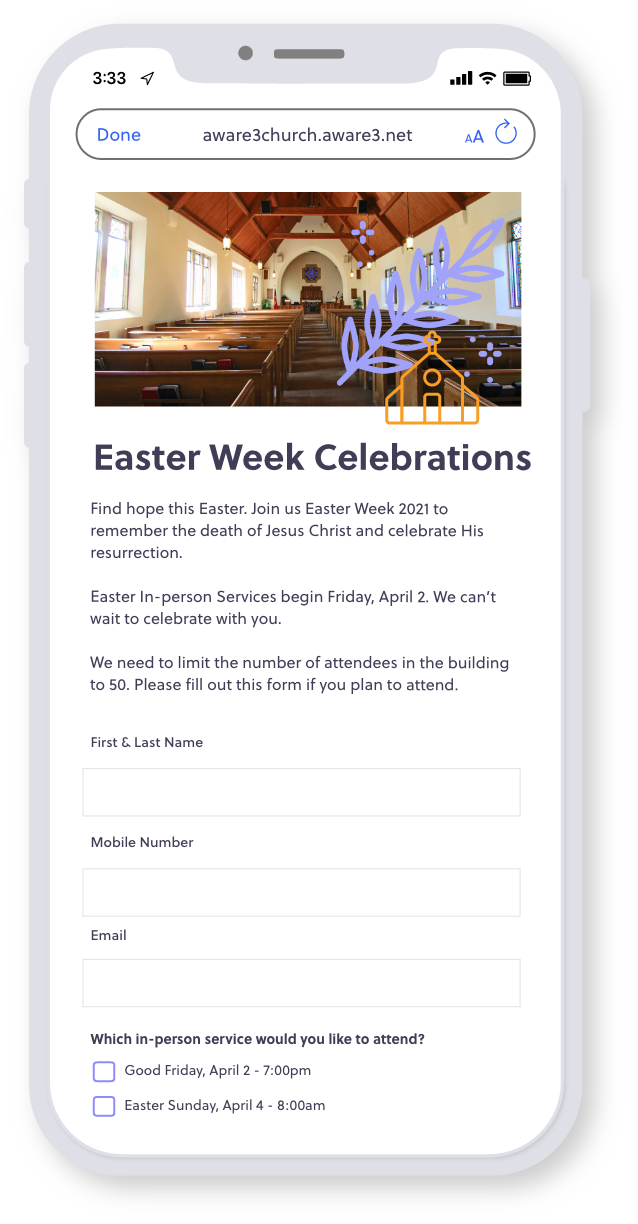 Tech Tips:
Outline your protocol and COVID-19 specific updates in a

form

. The information your members are looking for is all in one place and you are easily able to gather what your team needs to hold Holy Week services.
Share that form amongst your channels, whether it's your website, email, or social media. It's mobile and web-friendly, making it easy for people to sign up from wherever they are and feeling confident in what your church is doing for Easter.  
Your website should also clearly acknowledge the church's plan during COVID-19, and particularly for Easter Sunday. Church websites are typically used as a digital bulletin for people who are interested in more information about your church, and Easter Sunday will be no exception. It's important to be clear about what people can expect.
Even though there may not be an in-person celebration (depending on your specific church's Easter plan), invitation to Easter Sunday service is still important! Encourage members to share invitations to your virtual Easter service across social media and amongst their friends. Now, more than ever, people are looking for a community to be involved in.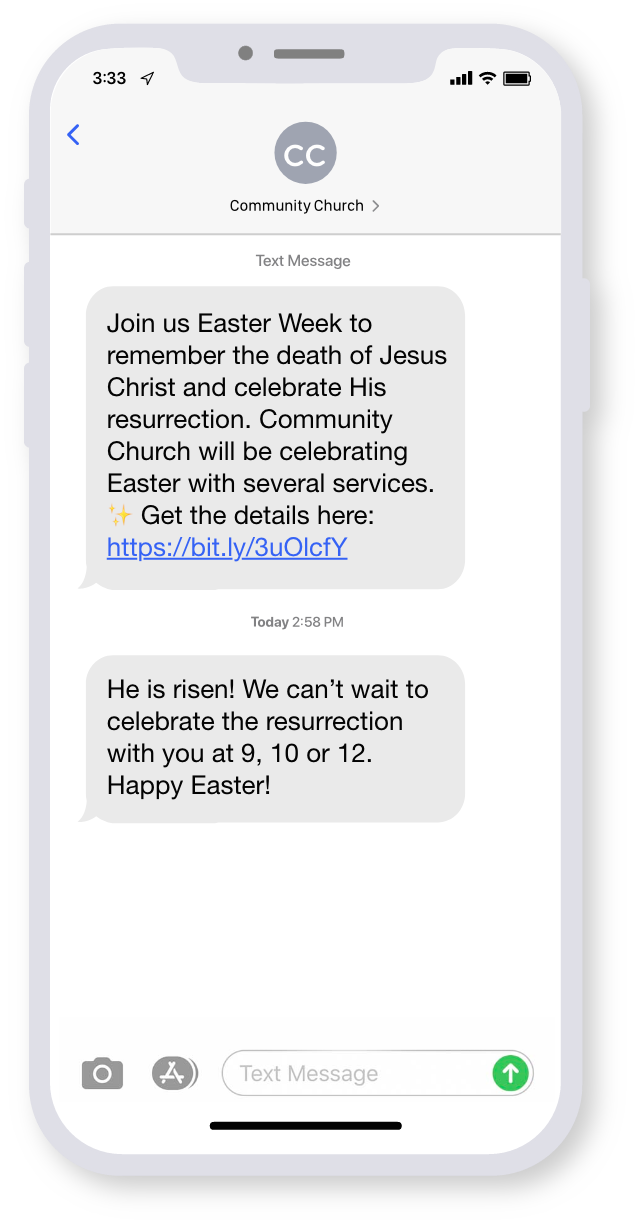 Tech Tips:
Leading up to Easter Sunday,

schedule text messages

inviting those who are planning on attending your in-person service to save their seat and complete a COVID-19 check-in form, encourage individuals to invite a friend to in-person or virtual service and give a shout out to the volunteers who helped out with Easter service.
Use Text-to-Act and set up a keyword to kick off the connection card process. For example, tell users, "Text the word Easter to xxx-xxx-xxxx and let us know you're here!" After they text Easter to that number, they'll receive a link to the form via text.
Pro tip: create an Easter tag to associate with your Easter Connection Card. That way, you can easily follow up with those people with a push or text.

Text-to-Act
Set up a keyword for members to request the form automatically.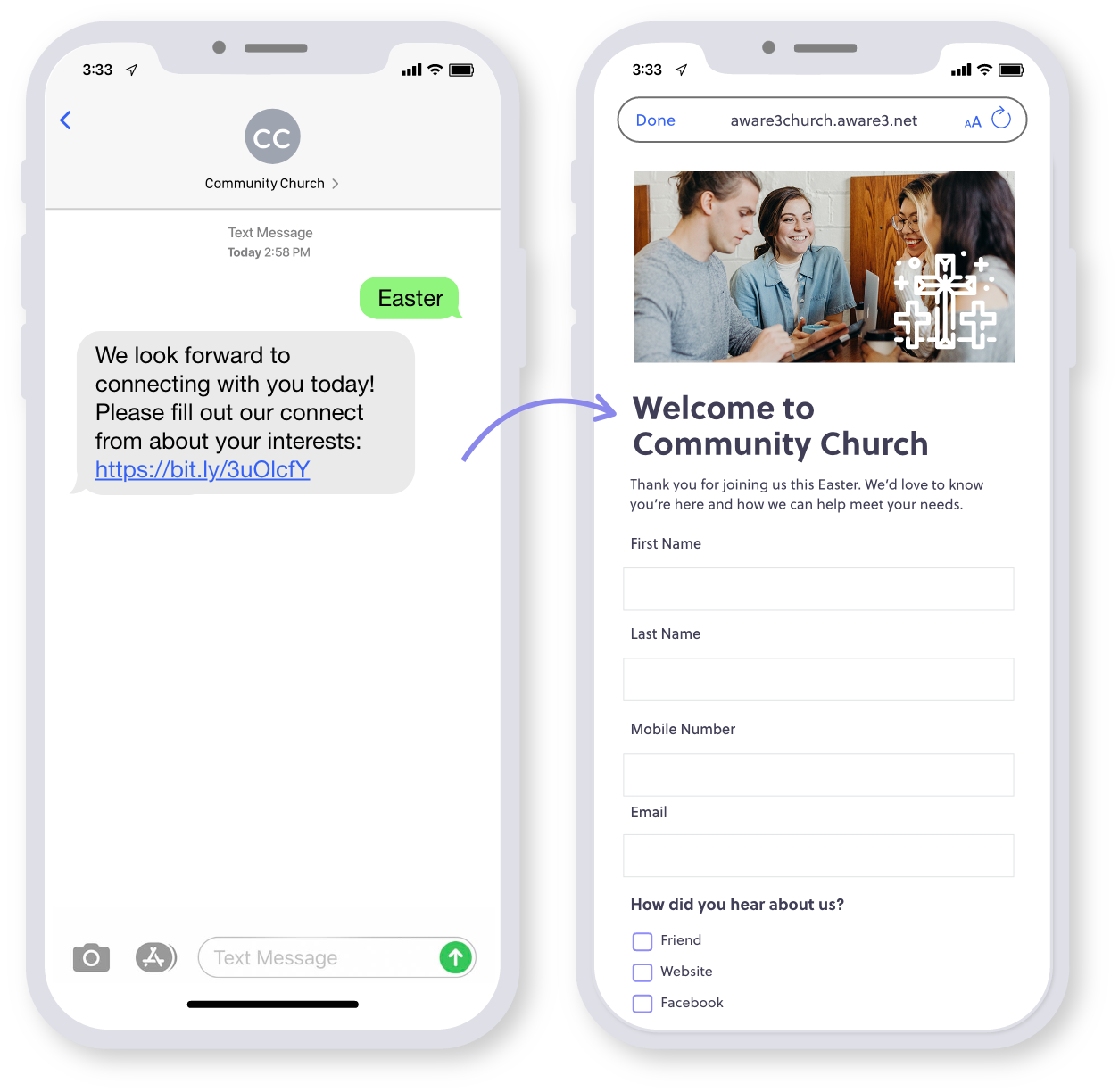 Think about creative ways to have people participate in your Hybrid Easter service. The cool thing about technology is that it facilitates two-way communication and can help people engage with what is happening in the service.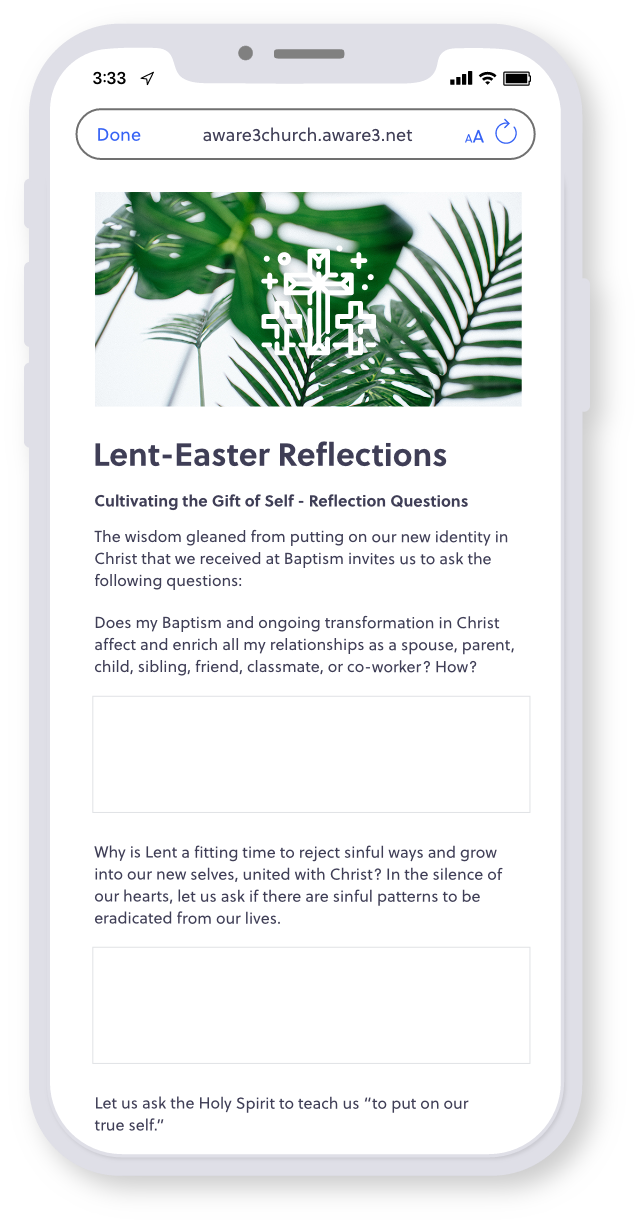 Tech Tips:
Ahead of your service, ask members to

fill out a form

(anonymous is a-ok!) sharing their Lent reflections. Did your church have a specific theme for the Lenten season? This is the perfect vehicle for members to feel connected to the larger congregation while moving along their faith journey.
In addition to Lenten reflections, send out a form for questions to be asked during the service. You can gather insight ahead of time and prepare thoughtful insight and response.

Encourage your members to fill out a feedback form. Their input will be important to help your team plan out post-Easter services and will help your members have confidence in their contribution.
Even though Easter is different this year, there is a tremendous opportunity to meet people where they are, extend hope, and offer community like never before. The truth is, the barrier to attending church is lower now that some people are attending from home. You're able to reach people who may not ever have attended a service inside the church's physical walls. 
That's why we created Together+ Ready—to equip your team to effectively communicate with your community and spark connection across your congregation, no matter where they are participating. If you would like to learn more about how this ready-to-go solution can help you successfully prepare and facilitate Easter services, speak to one of our Engagement Specialists today.
While some of us will physically be with each other this Easter and others will participate in Easter virtually, we can still be with each other in a number of ways. Following even a few of these tips will strengthen your communications and connections as we celebrate Easter this year.
Happy Easter!
Already have an app or are considering an app to engage your congregation?
Here are a few keys to success our church partners use to connect during this season: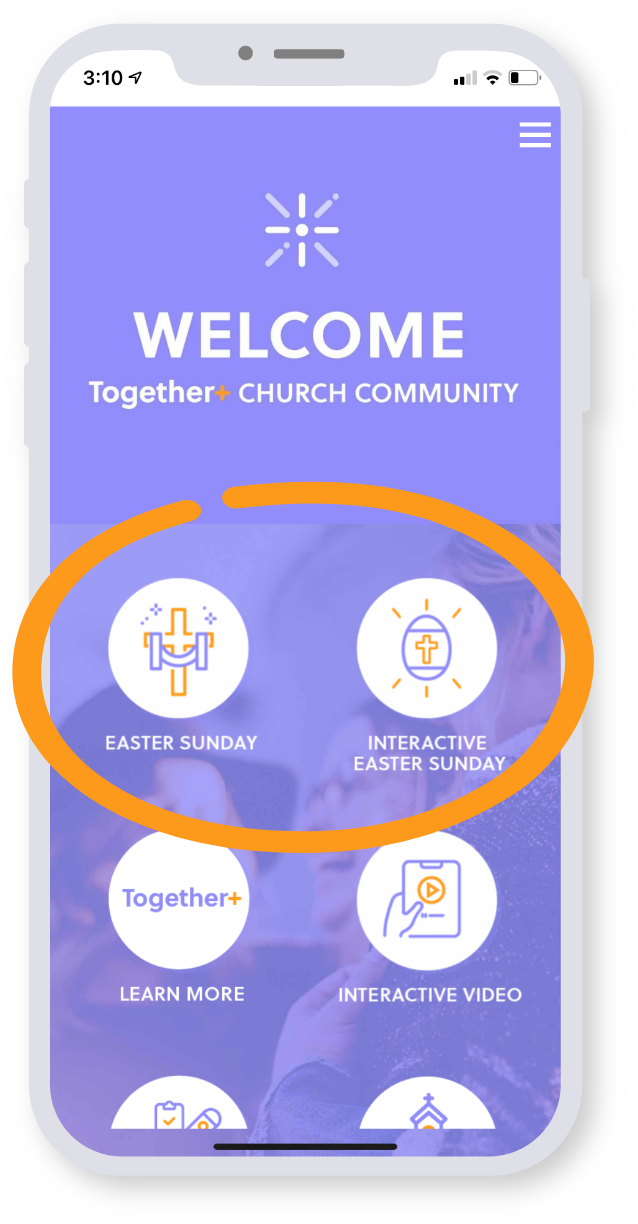 Create a space in your app that acknowledges the current reality and how your church is handling it, both logistically (services are online, in-person meetings, etc), and emotionally (how members can get support at this time – can they contact a pastor, join a virtual small group, sign up for pastoral care, etc).
Create calendar events for all of your Easter events/services.
Share reflections about member Lenten season experiences, reflections about the service, and discuss ways people can support one another through Chat.
Use Live Polls to take questions from people who are watching at home and in person. Live Polls provide 100% anonymous feedback and let individuals see others' responses to the live polls in a percentage format! You can even discuss the poll questions and results live during the service.