Collecting volunteer feedback is one of the best ways to empower your volunteers, improve their volunteering experience, and bolster volunteer retention. The insight you can gain from a single survey is likely to move you to change some things for the better.
Before you create your survey, think about the goal or purpose of the survey. What are you hoping to achieve by collecting information from your volunteers? Do you want to improve volunteer well-being at your church? Reduce volunteer turnover?
Here are a few examples of questions to ask when following up with volunteers: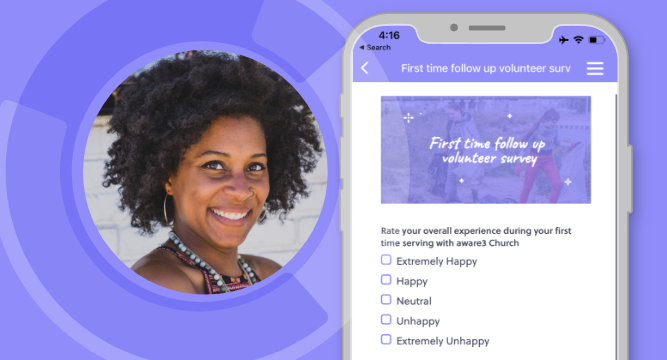 First time follow up volunteer survey
Rate your overall experience during your first time serving with [[ministry_name]]




How friendly were the people you were serving with?

How enjoyable was your first experience serving with [[ministry_name]]?

How prepared did you feel going into your first time serving with [[ministry_name]]?

What is one thing we can do to make the first time someone serves better in the future?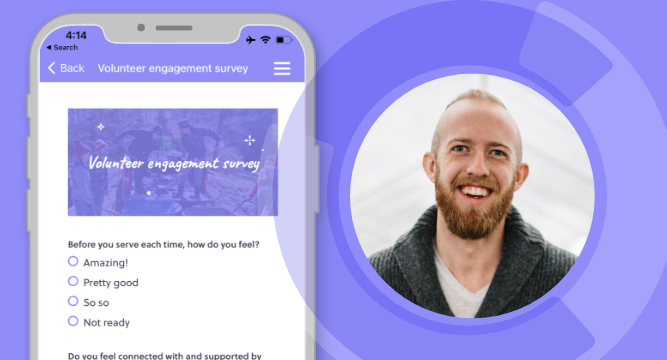 Volunteer engagement survey
Before you serve each time, how do you feel?

Each time you finish serving, how do you feel?

Do you feel your volunteer work is significant or impactful? If you answered no, please explain the factors that may make your volunteer work more meaningful.

Do you feel comfortable sharing your input or suggestions with us? If you shared your suggestions and feedback before, how were they received?

Do you feel connected with and supported by your ministry team leader?

Have you identified a need in our community that you think our church could address? Please explain.

In what ways can we be more supportive of your work as a volunteer?

What motivates you to serve?

Do you feel that you received enough training and information to feel prepared and carry out your volunteer work as effectively as possible?

What one change would you suggest to help everyone in [[ministry_name]] do a better job?
These surveys are great to use in two different situations. For new volunteers, it's vital to reach out within 24 hours to get feedback on their first time serving. Those new volunteers will one day be the core of your ministry and getting them started on the right foot is important.
For long term volunteers that have been with you for a while, send them surveys 2-4 times a year, or once every quarter. If you make it a habit to send this survey to your team at least twice per year, and then act on the information you gain from it, you'll be able to strengthen your ministry and make your volunteers feel valued and heard.

Through using digital forms + registrations you can easily create and send surveys by sending an email or texting them with a link.