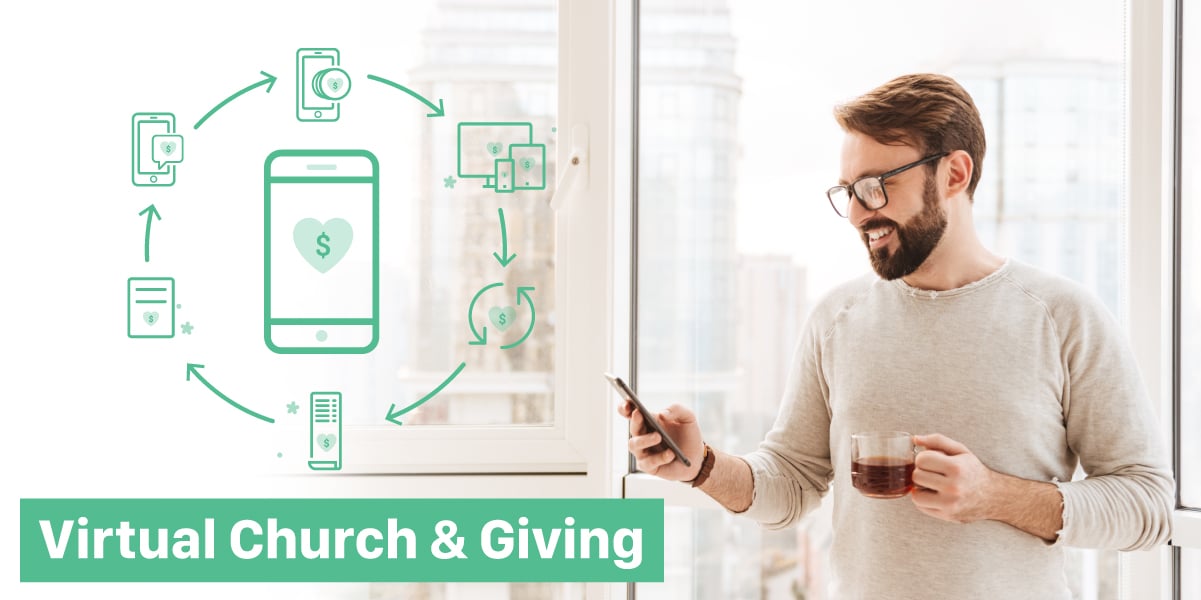 What Does Giving Look Like Beyond Church Walls?
Giving will look a little different this year.
Even though we can't physically pass the giving plate to one another right now, we can still continue to live generously. With virtual church and giving tools, faith communities can provide their congregations with a "digital giving plate." This allows people to generously participate in the offering, outreach initiatives, missions, and more —anytime, anywhere.
While this isn't a replacement for real-world interactions (and we wouldn't want it to be!), it is a powerful way to knock down the barriers to giving you're currently facing. You can create a clear, secure path to giving by equipping your members with easy-to-use digital giving tools.
So, what are these easy-to-use tools? Below are several giving tools that our church partners have added to their giving strategies:
Donation Web Page (for desktop and mobile) – Connect your congregation to your story and make giving easy with a branded, mobile-responsive page that can be shared across the net from your website to email to social media.

Text-to-give – Donors simply text "Give" to your dedicated number, input the amount, and bam! Gift sent.


In-app Giving – Donors can easily give and manage their donations from anywhere, anytime.


Registration Forms with Payments – Collect payments through aware3 forms for things like fundraisers, missions, and other purchases.


Pledge Management – Give your donors the opportunity to commit to a series of gifts over time with Pledges.


Recurring Giving – Make giving easy for your busy donors by allowing them to automatically gift on a recurring basis.


Email + Text Receipts – Save time and personalize the donor experience with automatically generated email and text receipts.


Crowdfunding – Raise money for specific needs with dedicated giving pages.

That's a lot of info. Here are a few follow-up questions you may have:
Q: Is my church required to have an aware3 app in order to use aware3-powered giving?
A: Nope! We believe giving is fundamental to all organizations, so our giving platform is available regardless of whether you're interested in a mobile app.

Q: How will this increase my giving?
A: On average, our church partners using digital giving for the first time see a 31% increase in their total giving. Church partners who switch from other giving providers increase their total online giving by at least 5%. Recurring giving, accessibility, and ease of use make more engaged givers. People fueled by generosity in their lives feel more fulfilled and have a greater positive connection to their faith and community.

Q: How secure is your giving platform?
A: All financial-related data is encrypted and stored by our payment gateway, PaymentSpring. PaymentSpring has earned the highest level of PCI compliance, Level 1. Level 1 PCI compliance is a set of rules stated by credit card companies and audited by an independent third party. Additionally, all transmission to our banking partner and on our site is via an encrypted SSL connection. No financial information is stored on our servers or yours.

Q: I have an existing giving provider. Do you have any best practices about making the switch?
A: We're glad you asked! Check out this one-page guide with our tips and recommendations.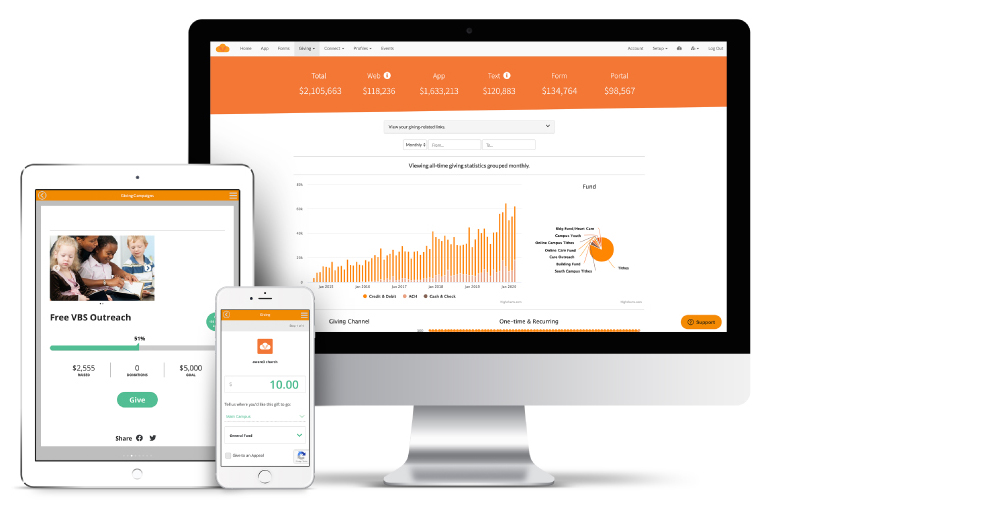 The first step is contacting our expert giving team to get the ball rolling. They'll get you started with a merchant application and establish a relationship with our processor, PaymentSpring. Once you fill out and submit your merchant application, the process takes 3-5 business days.
We know we can't alleviate all your stress during this difficult time, but we're doing our best to help anywhere we can.
If there's anything else we can do to support you during this time or if you have any questions, please reach out to us.