For when you and your members need an easy way to come together.
The simple, efficient way for you and your team to manage it all.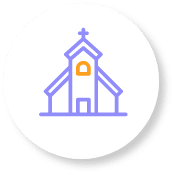 We built this platform for
churches like yours.
For churches who work day and night to be there
for their people. For churches with full hearts and never-ending to-do lists. For churches who put connection over consumption and believe that
church is bigger than Sunday.
For churches who know nothing beats
being together.
Why Together
+

's just better.
One consistent place for member
+

admin tools,
church info, and next steps.

With Together+, your member's mobile devices easily become the go-to place for getting church information, getting involved, and connecting with others.
Take next steps. Registrations, small groups,
events—you name it!
Get messages + updates
Interact with church media + content
Take sermon + small group notes
Give + communicate
Complete profiles + opt into interests
The Admin Portal is where you'll manage everything and learn about your members.
LEADERS + ADMIN CAN EASILY:
Customize & update church mobile app + features
Build + share forms (Plus, store all form feedback + info)
See all member profiles, activity, and usage
Get actionable data + insights from dashboards
Send, keep track, and schedule messages
Automate processes, reporting, and more
Togetherness is powerful. That's why, here, all of your tools and people are totally connected. From giving to texts to profiles, no feature stands alone with Together+.
STREAMLINE STEPS, TARGET MESSAGING, SIMPLIFY PROCESSES, AND MORE LIKE THIS:
Easily create a survey then text it to everyone or a specific group. Let members take notes while watching a sermon in-app. Schedule a reminder to be sent via push notification. Manage + learn from it all through the Admin Portal.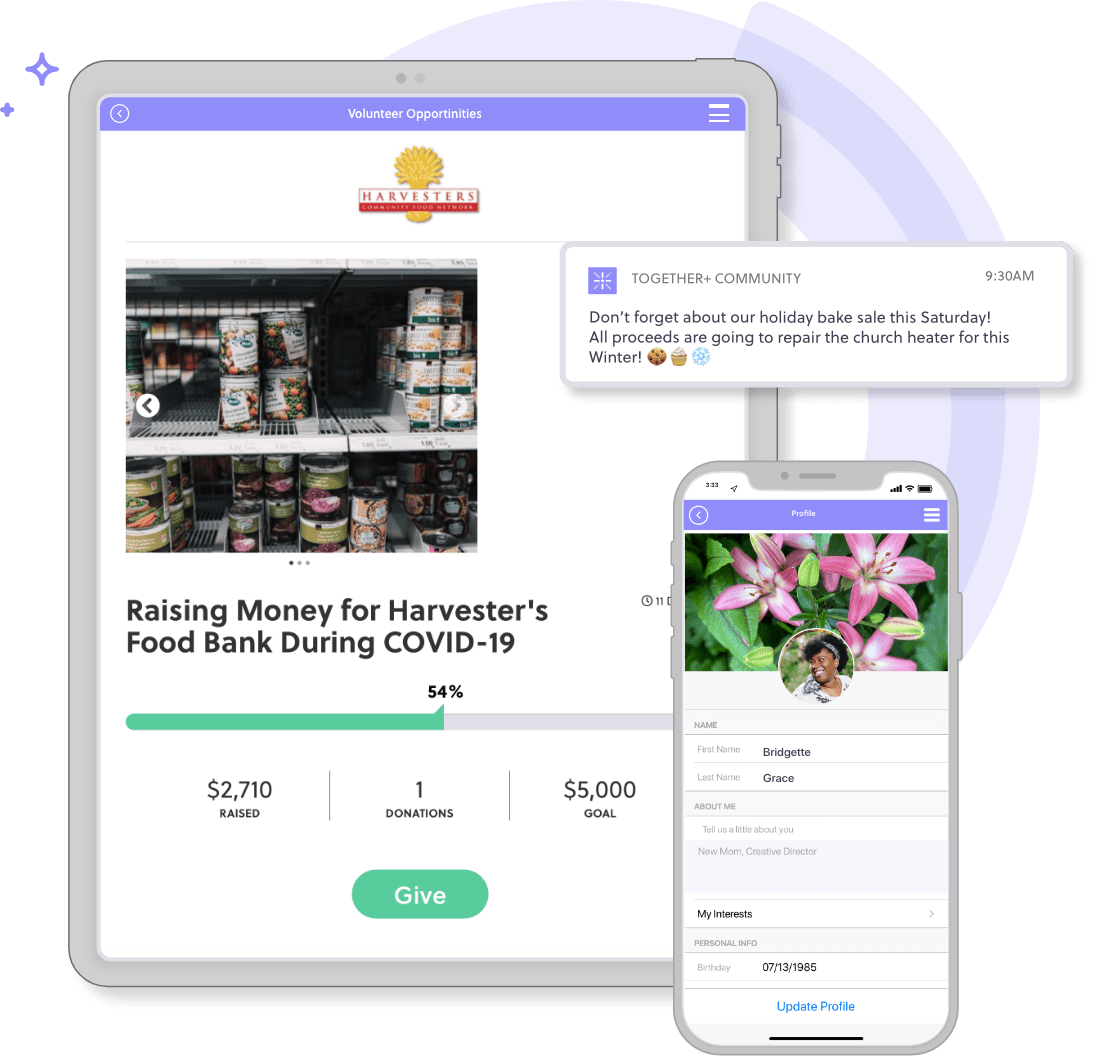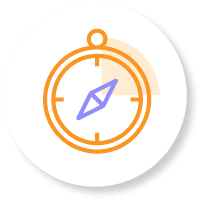 An easy-to-use platform built to save time
+

energy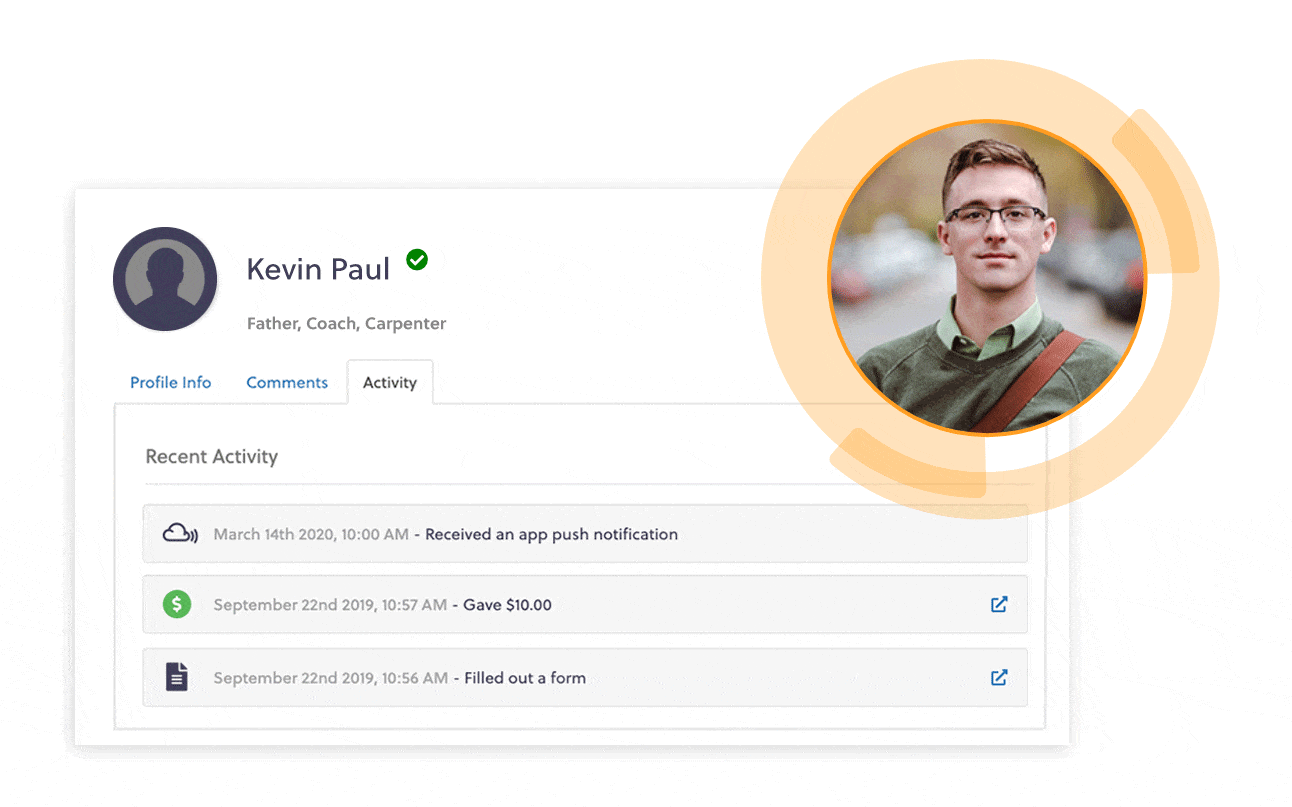 Church leader. Marketer. Accountant. You and your team wear many hats. We're here to lighten that load. Save time + energy with:
Streamlined processes + centralized information
Automated receipts, reporting, and reconciliation
Actionable data + insights to make decision-making easier + faster
Seamlessly integrate with ChMS + other software
Together+ is totally connected, cutting down steps for you and
your members
We meet you where you're at.
Then, we take things one step at a time, together.
Small or big church? Tech savvy or "technophobic"? No matter your starting line, our platform and our team can help you hit your stride. We work to support you from every angle.
HERE'S WHAT YOU'LL HAVE BY YOUR SIDE:
Wildy responsive support team. We're always just a call or email away!
Customizable branding + app features. Make Together+ exactly what you need it to be!
Quarterly check-ins + Optional Success Coaching
Tons of materials, educational content, free webinars, and more!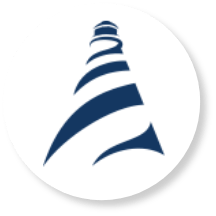 "We chose aware3 because it was the best all-in-one solution. Their platform stream-lined our processes allowing us to consolidate mobile app, online giving and event registration into one online account. This has been a huge benefit for us in helping to streamline our time and efficiency."
— Associate Pastor Philip at Beacon Baptist Church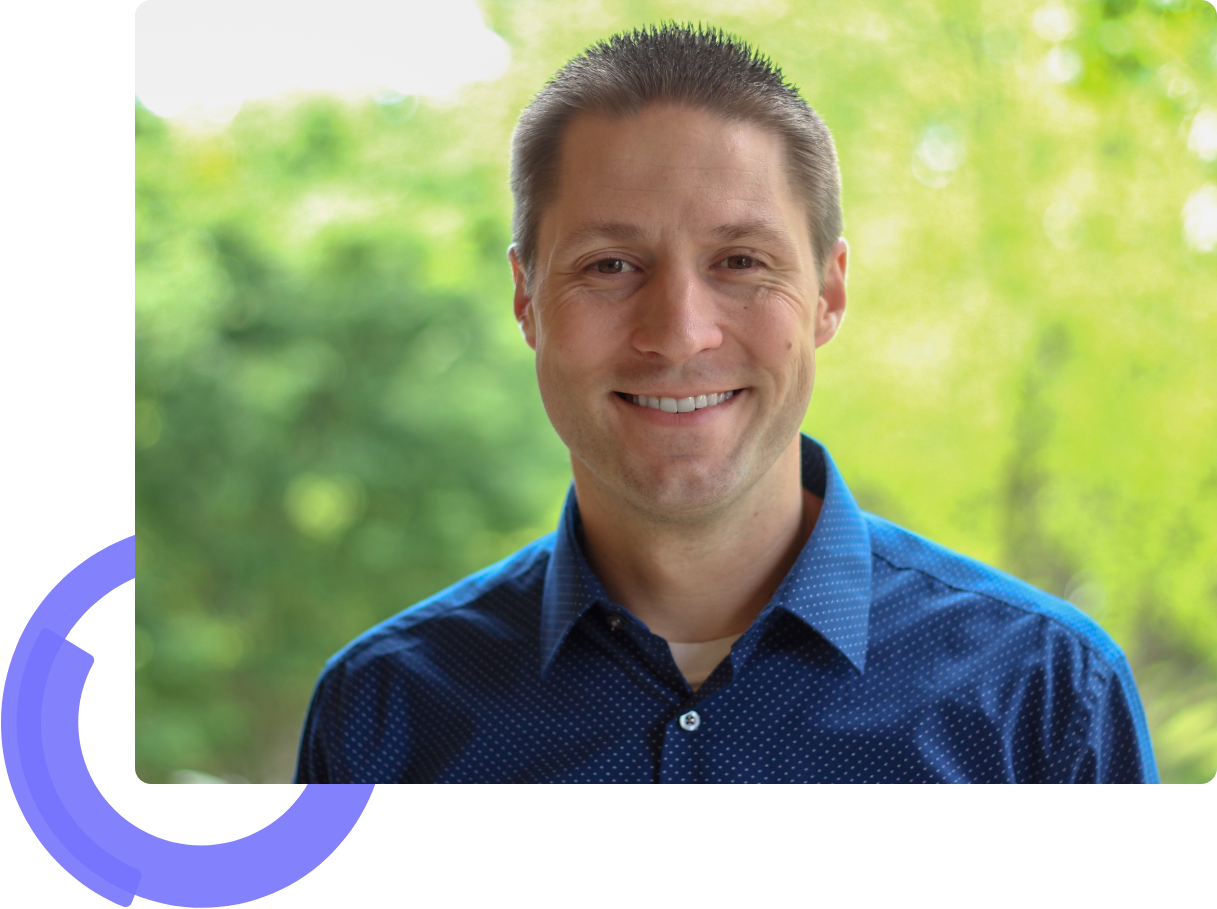 Let's put our heads together.
Our Engagement Specialists can talk you through
what our platform can do for your church.